'A Quiet Place' Director John Krasinski Set to Direct 'Live on Mars'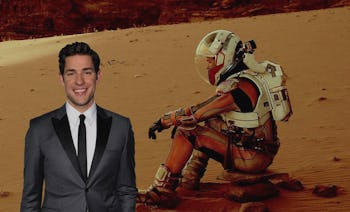 Getty Images / 20th Century Fox
After proving himself as a skillful sci-fi director with A Quiet Place, John Krasinski's taking his newfound talents to Mars next with a movie called Life on Mars. This new project comes from the same production team behind A Quiet Place, namely Michael Bay, Andrew Form, and Brad Fuller from Bay's production company Platinum Dunes.
Hollywood Reporter announced the news on Wednesday, adding that also like A Quiet Place, this new project is rumored to get picked up by Paramount Pictures. Life in Mars will adapt the plot of Cecil Castellucci's short story called We Have Always Lived on Mars. The story follows a woman that's lived her whole life in a Martian colony full of humans. After she realizes that she can breathe in the atmosphere of Mars, she embarks on a mysterious journey to learn exactly what horrible cataclysm left them all stranded on the red planet.
Considering the growing popularity of Elon Musk's efforts to eventually colonize Mars and also Matt Damon's well-received turn as a potato-growing astronaut stranded on Mars in The Martian, this seems like an ideal next project for Krasinski. Supposedly, he'll be strictly behind the camera for this one as opposed to his starring role in A Quiet Place. As of this writing, the film has no writer for the screenplay either.
Life on Mars will seemingly focus on some kind of mystery regarding how and why the Martian colonists got stranded on the red planet, but unlike something like The Martian that tries — and fails — to resemble real-life science, Life on Mars will have to lean pretty heavily into sci-fi. It seemingly has fewer horror elements to play with, so fans can also expect something strikingly different from A Quiet Place
For the time being, there are no plans for a direct sequel to A Quiet Place, even if the original screenwriters do have some ideas. So Life on Mars seems like the next-best thing.