'A Quiet Place' Sequel: Could the Horror Movie Be a New Franchise?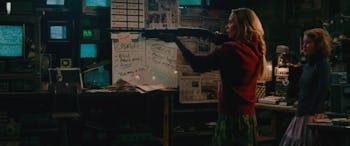 Paramount Pictures
John Krasinski's A Quiet Place could be this year's most buzzworthy new horror story, creating a new sci-fi horror universe with plenty of room for a sequel. We could one day learn it was part of the Cloverfield universe all along — the fantastical alien monsters certainly fit — but we could also get a more traditional sequel set in the same universe.
Some spoilers for A Quiet Place follow.
Principal A Quiet Place screenwriters Scott Beck and Bryan Woods came up with the film's main conceit, about blind alien creatures that hunted by sound, when they were still in college almost a decade ago.
At a press event in March, Beck and Woods confirmed they had "interest" in potentially pursuing a sequel, noting this phenomenon "happened to the whole world." In A Quiet Place, we follow one family that survived in rural upstate New York by committing to silence and using sign language, but we also find out there are other survivors in the immediate area.
Showing what happened in "the rest of the world" is one direction a sequel could go in.
"A Quiet Place was an original idea in a marketplace saturated by so many things based on IP and so our focus is always writing original material," Scott Beck said in a recent interview with Horror Geek Life. Their current project is an original horror film called Haunt that focuses on an "extreme" haunted house a group of friends visits on Halloween, just because they're pursuing original projects doesn't rule out A Quiet Place sequel down the line.
While there are no specific plans for a sequel on the schedule, Scott and Beck did confirm with Movie Web at South by Southwest that they already have ideas ready to go.
"We even have some of the set pieces already written for it," Beck said. "In a sense, that's what you have to base it around. You have to figure out, what is the worst possible situation to put your characters in and go from there." Woods added that cost was a concern for their first outing, something that a sequel could have more flexibility with: "We have so many scary ideas that just didn't even make it into the final script, let alone the final movie, but just written, we would love to see this sequence. Some sequences that were just quite frankly too expensive to even do in this movie."
These many leftover ideas could be integrated into a potential sequel, but it seems like Scott and Beck would leave the Abbott family to explore other options if a sequel did happen. "I think you could continue down one path that's very obvious, or you could spin off into a completely unexpected direction," Beck said. "Which is certainly always interesting for us. The uncharted territory of filmmaking is always where you find the best inspiration."
Obvious could be checking in with the members of the Abbott family, but an unexpected direction could examine ground zero, the area in Mexico these creatures came from after an asteroid struck Earth with the "force of a nuclear bomb." Spoiler here There's yet another option in exploring how humanity can fight back against the monsters after the Abbott family figures out how to weaponize sound to fight the creatures.
Distributor Paramount Pictures would probably only greenlight a follow-up to A Quiet Place if the movie does well at the box office, and if the critical buzz continues going strong into the film's first weekend, then it's totally possible.
Beck joked with Movie Web that one obstacle would be figuring out what to call a sequel "A Quieter Place?" he wondered.
Or could it be Another Quiet Place? Maybe just the straightforward A Quiet Place 2? 2 Quiet, 2 Place? The possibilities are endless, including the best answer: Quiet Places, which could focus on multiple locations. But who knows what direction it could go in.
A Quiet Place is currently in theaters.