'A Quiet Place' Loses Perfect Rotten Tomatoes Score Thanks to One Review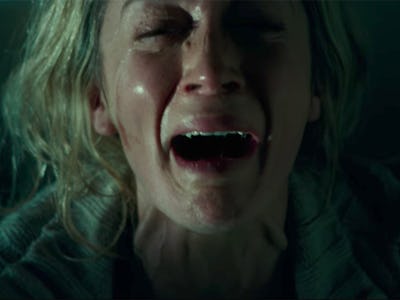 Paramount Pictures
Despite more than 100 overwhelmingly positive reviews of A Quiet Place — including one from this publication — John Krasinski's excellent new horror movie lost its perfect Rotten Tomatoes rating on Wednesday. Damien Straker's review on the Australian entertainment site Impulse Gamer seemed annoyed by conventional gender roles, but he also laments the absence of answers regarding the story's mysteries. He says A Quiet Place "lacks the articulateness to create unique, progressive statements for its characters."
Krasinski, who co-wrote, directed, and starred in A Quiet Place, would probably take issue with someone saying the movie was "hushed in its thematic meaning." The way A Quiet Place weaponizes sound as a tool of fear works on both the audience and its characters, perhaps so effectively that these characters are powerless to do anything other than regress into traditional gender roles. Straker blames conventional gender roles this on producer Michael Bay when by all accounts, it was Krasinski and screenwriters Scott Beck and Bryan Woods who crafted the story. With a pregnant wife and deaf daughter, who else would venture out into the dangerous wilds to catch fish other than Lee Abbott?
Straker argues that this "archetypal family structure is flat and overly traditional," which is a fair assessment. Krasinski's character, Lee, plays the protective hunter while his wife cooks, teaches the children, and washes laundry. A somewhat contentious middle section of the movie even shows Lee take his unwilling son out on a fishing trip despite his older deaf daughter volunteering.
You could see this as chauvinism, but in the context of their situation, it feels like more of a practical strategic choice. Without spoiling too much of the movie, Regan being deaf is a liability on more than one occasion. This fact haunts the family, and the trauma causes the parents especially to regress deeper into their roles, especially after Evelyn, the mother, gets pregnant again. Perhaps this family's faith also plays a role in establishing the traditional family structure, but it's just as likely that real-life married couple John Krasinski and Emily Blunt merely brought a version of their own family unit into this story.
On Thursday, yet another Rotten review came in from K. Austin Collins of The Ringer, who called A Quiet Place "all rustic doom and bearded gloom," arguing that the movie was "sillier than it would like to admit." Collins notes the "inventive ridiculousness" of how the Abbotts mute sound in this apocalypse and the gimmicky simplicity of how they study the monsters.
Ultimately, these negative reviews were bound to happen. A Quiet Place offers a thrilling and tightly-paced story that's the most potent, accessible, and inventive horror story in recent memory. In many ways, it's safe and simple storytelling, which might not be enough for some viewers.