'Legends of Tomorrow' Season 3 Finale Gives John Constantine New Life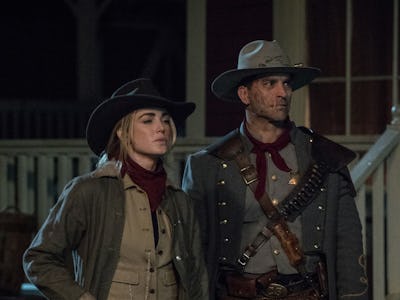 The CW
If there is one thing that separates DC's Legends of Tomorrow from the rest of the Arrowverse, it's change. Keeping true to its annual tradition of shaking things up in the finale, two mainstay heroes exit the time-travel series in an utterly ridiculous, and utterly fantastic, Season 3 finale. This allows the final moments to welcome two new heroes for next year: Gary, the Time Bureau's lackey, and John Constantine. That's right. The con artist is back, and finally, he's here to stay.
In "The Good, the Bad, and the Cuddly," Legends of Tomorrow delivers the goods by culminating a season's worth of story arcs and guest characters, boiling it all down to one ludicrous final battle. To defeat Mallus, the Legends retreat to the Old West — reuniting with their old pal Jonah Hex (Jonathan Schaech) in the process — to buy time in order to master the totems, which can help them conjure a force for good to fight the time demon. (Think Stay Puft from Ghostbusters crossed with Pacific Rim.) After some shenanigans, and recruiting old friends, the Legends come together and form… Beebo, the hottest Christmas toy of 1992.
Yes, the final battle in Legends of Tomorrow Season 3 comes down between a demon straight from the Book of Revelations, and an oversized purple bootleg of Tickle Me Elmo. Yes, this is the greatest thing the Arrowverse has done. No, I am not delusional. Once again, Legends knows exactly what kind of show it is, and doubling down on its absurdity only makes the show infinitely more fun than Arrow, The Flash, and even Supergirl. (Black Lightning is still great.)
Naturally, the Legends win the day. But not without paying a heavy price. Early in the episode, to let the Legends escape from Mallus, Rip Hunter (Arthur Darvill) stalls the demon by sacrificing himself using pieces of the Waverider to craft a makeshift bomb. At long last, Legends of Tomorrow gives Rip his long overdue farewell. Later, when Mallus is defeated, Amaya (Maisie Richardson-Sellers) returns to her own time and place, in Zambesi, 1942. That's two mainstay Legends gone, and now, two new ones join the fun. In trading one trenchcoat for another, John Constantine (reprised by Matt Ryan) catches up with the Legends, who are in the midst of well-deserved R&R in Aruba.
There's no rest for the weary, as Constantine warns the Legends that defeating Mallus has only opened the gates to the underworld to invade the timeline. Besides the fact it's been rumored for weeks, as a supernatural expert Constantine is well-suited to join Legends as a series regular. Finally, Constantine gets the second season fans have been waiting for since his solo series Constantine was untimely canned by NBC back in 2015.
There's also Gary, In what might be a rare misstep by Legends of Tomorrow, Time Bureau lackey Gary (Adam Tsekhman) also joins Constantine, seemingly to function as the show's comedic relief next season. Even though Legends has proved time and time again it doesn't need a blatant Screech Powers figure to get some laughs.
But hey, Legends has rebounded from worse. And if by this time next year we all love Gary, well, that just proves this show has serious magic.
DC's Legends of Tomorrow Season 4 does not yet have a premiere date.