'Legends of Tomorrow' Adds Another Hero, Gears Up For Biggest Finale Yet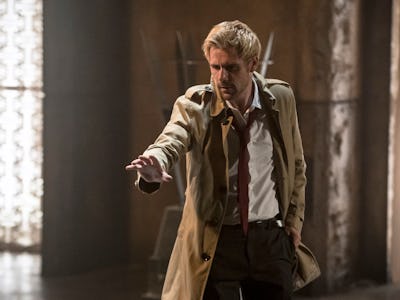 The CW
The Waverider is going to be really full in the upcoming season finale of Legends of Tomorrow. Seems the team is going to need some serious — and supernatural — help from their allies to take down this season's Big Bad, Mallus.
The latest ally joining the Legends for the finale is the recurring Arrowverse character John Constantine. According to Entertainment Weekly, actor Matt Ryan is officially appearing in the episode slated to air on April 9.
Constantine certainly will not be alone when he appears at the end of the season. Jonathan Schaech and Franz Drameh are also guest-starring in the season-ending installment. Schaech's Jonah Hex last appeared in the Season 2 episode "Outlaw Country" while original series regular Drameh played Jefferson "Jax" Jackson, half of the hero Firestorm. He left earlier this season after the other half of Firestorm, Martin Stein (Victor Garber) was killed during this season's big Arrowverse crossover "Crisis on Earth-X". Drameh departed shortly after.
Ryan's Constantine has found new life as part of the Arrowverse after his NBC series Constantine was canceled after one season in 2015. The character has had an animated series on CW Seed and several appearances in the Arrowverse, starting with an episode of Arrow titled "Haunted" where he saves the soul of Sara Lance after her resurrection. He had his first adventures with the team on Legends of Tomorrow debut earlier this season in Episode 10 "Daddy Darhkest" and teams up with the Legends and discovers the existence of demon villain Mallus. The occult detective's skills came in handy for this season of the time-traveling series and it seems the character is set to return for the fight as he is slated to appear on Episode 15 "Necromancing the Stone" before the finale.
Legends of Tomorrow airs on Mondays at 8 p.m. Eastern on The CW.