'Legends of Tomorrow' Sneaks Onto the Set of 'Lord of the Rings'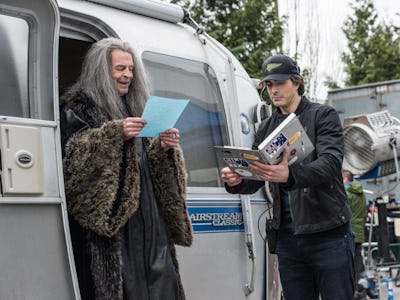 The CW
Saving the future 44th President of the United States from Gorilla Grodd was an ace move for the Legends of Tomorrow, but the episode still ended with Mallus finally breaking free. Oops! But, at least Ray got to see the making of Peter Jackson's Lord of the Rings.
In DC's Legends of Tomorrow, "Guest Starring John Noble," Mallus, voiced by John Noble, inhabits Damien Darhk's daughter, Nora (Courtney Ford) before breaking free — and killing her — thanks to one more anachronism. Meanwhile, in order to trick Nora into trapping herself in the Waverider, Ray (Brandon Routh, who each week proves he should play Reed Richards in the MCU) travels to the set of Peter Jackson's Lord of the Rings in New Zealand for the most hysterical reason: Because Mallus sounds like, well, actor John Noble, Ray poses as a production assistant on The Fellowship of the Ring to record fake lines from John Noble, playing himself, to fool Nora. Shockingly, it works.
First, yes, this is true. (The John Noble part, not the Mallus part.) In 2001, Noble played Denethor in The Lord of the Rings: The Fellowship of the Ring, for which he won Screen Actors Guild Award. He later starred in the sci-fi series Fringe from 2008 to 2013, the same year he also voiced Brainiac in the DC animated film Superman: Unbound. Funny how this all works out.
More hilarious — or more absurd, depending on your mileage — than using John Noble as a gag to break the fourth wall is that the Legends actually kick off this episode by saving Barack Obama. Yes, Barack Obama.
Before Mallus is let loose thanks to an anachronism in Amaya's village in 1992, the first attempt at unmaking history came from an assassination attempt by Maullus's hired gun, Gorilla Grodd. The target: Obama, while he was a student at Occidental College. The Legends thwart Grodd's attempts before erasing Obama's memory, but Sara (Caity Lotz) gives him the wise advice to "hold on" to his birth certificate.
More than the amusing notion that Obama survived to become president thanks to time-traveling superheroes, the penultimate episode of Season 3 is important for setting up the finale to what has to be one of the finest stretches the Arrowverse has seen in a while. The show has remarkably achieved doing its own mini-Infinity War on a fraction of Marvel's budget, all while never forgetting to lighten the mood but making sure audiences take the stakes of the series seriously.
DC's Legends of Tomorrow airs Mondays at 8 p.m. on The CW.