Jonah Hex Will Return in 'Legends of Tomorrow' Season 3, Actor Confirms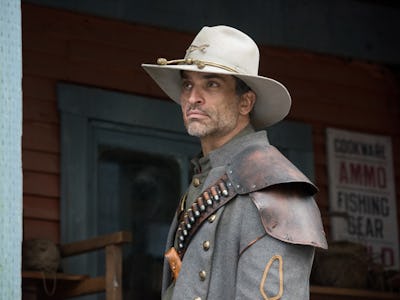 The CW
Jonah Hex is about to return to the Waverider. In an interview with Inverse for his new movie Day of the Dead: Bloodline, actor Jonathon Schaech confirms that his Confederate soldier turned expert bounty hunter will come back for an appearance on DC's Legends of Tomorrow when the show resumes in early 2018.
"They pinned me for the beginning of the year," Schaech says in a phone interview with Inverse. "I don't know what we're gonna do or how many episodes, but definitely he's [Jonah Hex] going to be a part of Season 3."
Schaech adds that he "hasn't read anything" and that he doesn't know how many episodes he will be in Legends of Tomorrow Season 3, currently on winter hiatus. Historically, Schaech has played his fan-favorite anti-hero for just one episode each season. Thanks to the show's time travel concept, it's possible for the lead characters to pay a visit Jonah Hex in the Old West any time.
"They pin the actors to see if they're available for certain dates." Schaech says he's filming his episodes in January. "That's all I know right now," he says.
At the moment, Schaech is on the press tour for his new movie Day of the Dead: Bloodline, a remake of George Romero's Day of the Dead, which will be released on January 5, 2018. A more complete interview with Inverse and Schaech about that film will be released at a later date.
Created by John Albano and artist Tony DeZuniga, Jonah Hex debuted in an issue of All-Star Western in 1972. Characterized by a brutal facial scar and his no-holds-barred approach to hunting outlaws, Jonah Hex is one of the most popular western characters in comic books whose arrival came way after the rise and fall of western pop culture in the mid-20th century.
Before Schaech first played Jonah in Legends of Tomorrow in 2016, Josh Brolin — who now plays both Thanos in Avengers: Infinity War and Cable in Deadpool 2 — starred as the character in the 2010 film Jonah Hex, which was panned by critics and bombed hard at the box office.
DC's Legends of Tomorrow will return on January 15 at 8 p.m. Eastern on The CW.