'Legends of Tomorrow' Season 4 Will Be More Supernatural, Showrunner Says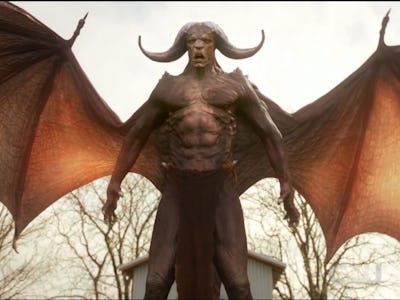 The CW
The third season of Legends of Tomorrow has brought the show's time-traveling hijinks into the world of the occult. Big Bad Mallus is a time demon looking to destroy everything and the season has included the returns of a magic-loving villain, Damien Darhk, and the supernatural detective Constantine. While Monday's finale may mean the end of Mallus, it seems the CW drama is not done with the occult.
Over the weekend, Legends co-showrunner Phil Klemmer discussed the finale with TVLine and revealed the series was keeping the magic next season.
What is his agenda? What does he "want" most in the world?
He is a sort of bellwether of bad guys to come in Season 4. Up until this point, we've been dealing with earthly and historical bad guys, and we certainly had fun with all of that, but this year we dabbled in the world of the occult, through Damien Darhk and his enterprises. But you know that Constantine is coming onto the show [as a regular] next season, so we want to go deeper, we want Mallus to be used as "the tip of the iceberg." He is not human, and we want to start playing with the idea that Earth hasn't always belonged just to our kind.
We want to get into the world of fantastic myths and monsters a bit more. It's kind of presumptuous for anybody to think they have ownership of this Earth or any part of it. Not to get deep into immigration metaphors, but Mallus is an ancient evil, he doesn't understand humans and doesn't understand why we have any claim to controlling this world of ours.
Sticking with the supernatural next season lines up with what the series has done this season. Much of the story has been devoted to the search of magic totems, which many of the Legends began to use during last week's penultimate episode in an attempt to defeat Mallus. Also, Zari and Amaya, who has been on the team since Season 2, get their powers from these totems, so magic has been part of the Legends team for some time.
Plus, the series has added Constantine himself as a series regular for next season and what would a supernatural detective do without some occult to investigate.
This is not the first time the Arrowverse has dabbled in the occult. Arrow has its own Damien Darhk season, which was not its finest hour. Hopefully, Legends of Tomorrow has better luck.
Legends of Tomorrow airs Mondays at 8 p.m. Eastern on The CW.