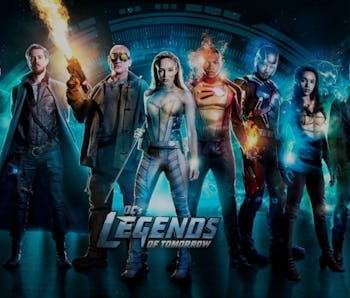 Entertainment
'Legends of Tomorrow' Will Permanently Add a Fan-Favorite Arrowverse Hero
The CW
Those who watched short-lived NBC series Constantine, were very excited to see Matt Ryan reprise the role in the Arrowverse. Since his reintroduction, Ryan has impressed with several appearances as the hardened yet charming supernatural detective. Apparently, a handful of episodes across two of the universe's shows was just enough to get Constantine a permanent home.
The Legends may defeat Mallus in Season 3, but it seems Legends of Tomorrow is sticking with the dark arts. According to TVLine, The CW series is bringing back Matt Ryan as Constantine for Season 4 as a series regular.
After making his Arrowverse debut in Arrow's fourth season to help Sara get her soul back, Constantine reunited with her on Legends of Tomorrow's third season. He joined the team for a mission on "Daddy Darhkest" to save Damien Darhk's daughter Nora after sensing Sara is in trouble yet again. Naturally, he returns on Monday's episode "Necromancing the Stone" because Sara is taken over by Mallus's power. The show is fitting in one more appearance during the season finale before he joins the Waverider full time.
If that's not enough Constantine for you, then there's an animated series to give you even more of the detective. The second season of the character's CW Seed series Constantine will premiere March 24.
Legends of Tomorrow has been mixing around its roster quite a bit this year. After adding new hero Zari at the beginning of Season 3, original characters Martin Stein and Jefferson "Jax" Jackson, who made up hero Firestorm, both exited the series. In addition, The Flash hero Kid Flash made the jump to the time-traveling series recently.
Interestingly, Legends of Tomorrow has not officially been renewed for a fourth season. Official word should come in a few weeks, but assuming it does happen, Constantine will be there.
It's always a good time when Constantine shows up on the Waverider, so thankfully Season 4 is letting the good times roll.
Legends of Tomorrow airs Mondays at 8 p.m. Eastern on The CW.