This 'Legends of Tomorrow' Casting Is A Good Sign For Wally West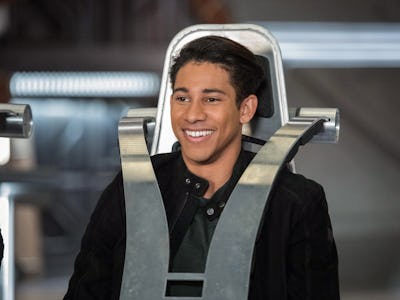 Dean Buscher/The CW
Things are looking up for Kid Flash. After being sidelined on The Flash during Season 4, Wally West is headed to Legends of Tomorrow to join the time-traveling team as a full-fledged member. In even better news some recent casting news suggests that the show will dig into Wally's past, and that he won't get lost in the shuffle the way he did on The Flash.
Violett Beane, who plays superhero and Wally's love interest Jesse Quick, is making her way to Legends of Tomorrow according to Entertainment Weekly, and she's slotted to appear in the season's fifteenth episode "Necromancing the Stone." For fans of Kid Flash who thought The Flash wasn't utilizing the yellow-clad speedster, this is good news. Bringing Jesse to Legends alongside Wally, even if it's only for a bit, could signal that Wally may have really found a new home.
Keiynan Lonsdale made his debut as Wally during The Flash's second season, and at first he was interesting because of his tense relationship with Barry, a character most people got along with up until that point. Then he got powers and their relationship changed because Wally needed the Flash in addition to their relationship improving. He would continue to grow as a hero, learning how to be a good member of the West family and gaining mastery of his powers. He even get into a relationship with fellow speedster Jesse Quick.
During the fourth season, though, things started to change for Wally. When the season began, Wally was thriving as Central City's main hero, since Barry was stuck in the Speed Force, but all that development went out the window when Barry returned. Wally wasn't even regulated back to sidekick, he was just sidelined. He stopped going out with Barry and essentially lost his place on the team completely. The producers have explained the cost of the special effects makes it difficult to consistently have two speedsters.
Throughout the most recent season, Wally has been going on walkabouts trying to "find himself," which essentially took him off the show. He even missed most of the action in this season's the epic Arrowverse crossover, apart from the fight at his sister's wedding.
Luckily for Wally, and his fans, the CW announced that Lonsdale would join the cast as series regular, as some fans has suspected following the departure of a couple Legends characters.
News of Jesse Quick's Legends appearance suggests that Wally will not only be part of the team, but a big part of the show, going forward. Legends has an ensemble cast of characters by nature, and at worst, that leads to heroes just showing up for big fight scenes and contributing a line or two to group conversations. Wally could easily get lost in the shuffle as just "the new guy" who gets introduced midseason, especially since we're just really starting to get to know Zari Tomaz, who debuted at the start of the third season. Wally could have had to wait for a potential fourth season to get his own arc.
But, bringing Jesse aboard offers some hope, as it's a simple and effective way to tap into his Arrowverse past and giving the character some storylines. It's also going to be super awkward because she broke up with during one of his last appearances on The Flash.
Legends of Tomorrow has done very well by many of the characters its pulled from across the Arrowverse, even if sometimes its a little slow to start with the character development in earnest. Mick Rory, for example, appeared on a few episodes of The Flash and has become a standout character of the ensemble. Ray Palmer joined Arrow as an obstacle in Oliver and Felicity's romance before taking his super suit to join The Legends. Legends of Tomorrow in the past has given characters their due, which makes it the perfect place for Wally.
While it'll be nice to see Jesse, Wally joining the Legends is exciting because viewers can see Kid Flash became his own hero. Barry took him under his wing and taught him well, but now it's time for Wally to show who he is without his family. Without Barry's guidance, Iris' advice and Joe's attention. Whether he struggles or thrives, it will be great to see him do his own thing.
Legends of Tomorrow airs on Mondays at 8 p.m. Eastern on The CW.