A Hero Makes the Ultimate Sacrifice in "Crisis on Earth-X" Finale
With plenty of other surprises along the way.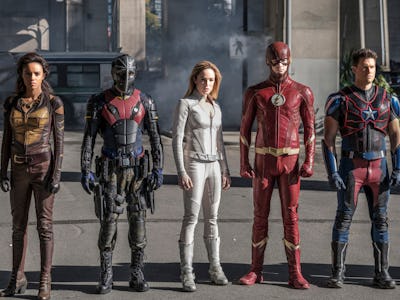 The CW
By the end of this year's Arrowverse crossover "Crisis on Earth-X," the Nazis might be defeated, but one hero in the Arrowverse has to make the ultimate sacrifice.
Spoilers follow for "Crisis on Infinite-X" and the greater Arrowverse.
We all sort of knew it was coming — based on reports from October — but we just didn't think it would happen this soon: One-half of Firestorm died in the final episode of "Crisis on Earth-X," which was fittingly the Legends of Tomorrow episode. Professor Martin Stein was shot twice in the third episode and later succumbed to his wounds.
After most of Team Arrowverse's most powerful combatants endure an Earth-X concentration camp in Part 3, they make a daring escape, teaming up with The Ray and Citizen Cold to return to their Earth via the Nazi's highly-guarded portal. Firestorm foolishly splits up so they can achieve two supposedly necessary objectives only for Stein to get shot.
This comes after episodes of tension between Jax and Stein about the latter's desire for a quiet life of retirement with his new family. Cisco developed some kind of serum that would permanently split them up, and Stein himself even worked on a variant that would give Jax some weird spider powers.
But when Nazis attacked, Firestorm was forced to join the fight, and even though Stein didn't get his happy ending, he did get a noble one. His final words to Jax are fitting for a character that was always so genuinely nice: "I hope your life is long and full of love, just as mine has been.
It's Stein's death that serves as a rallying cry for the final fight in a way that feels a lot like the first Avengers. Beyond having a world to fight for, they have a comrade to avenge. "We can't bring Marty back," Ray Palmer says, "but we can protect the city he loved and the family he left behind." White Canary says, "For the professor." And they all go off to war.
Yes, Iris and Barry's wedding eventually happens, with Diggle filling in for a quick cameo as the officiant of their wedding. And yes, despite all the tension over Oliver proposing to Felicity yet again, even they get married. Two Arrowverse weddings at once! It's great that all this happens, but the emotionally potent moments come earlier than that.
Before the happy ending can happen, the entire Arrowverse crew buries Martin Stein in a moment that chokes up even Rory. Of all the people that say their heartfelt goodbyes, it's Caitlin's that really hits home:
"Tell Ronnie I miss him."