CBS/Viacom Merger: 'Star Trek' Movie and TV Canon Might Really Be Reunited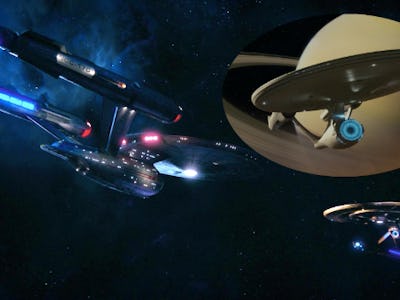 CBS/Paramount
The future of Starfleet in the 23rd century may end up looking like its past. And that's not just because both the existing Star Trek reboot movies and the TV series Star Trek: Discovery are prequels, but instead, because the Star Trek universe may become one big happy family again. The rumored merger between CBS and Viacom may actually be happening, and if it does, Star Trek would almost certainly be changed forever.
On Tuesday, CBS made a formal offer to purchase all stock in Viacom — the parent company of Paramount — though as Deadline noted, the offer was supposedly lower than what Viacom would want. Even so, the vice chairman of both companies, Shari Redstone is pushing for an outright merger. As TrekCore pointed out, big mergers seem to be in vogue among huge film and television studios. Late last year, Disney acquired Fox in a substantial merger, the effects of which are still unclear.
But, if the Viacom/CBS merger happens, the implications for Star Trek are pretty clear. Legally, there would be no reason why the next Trek film couldn't encompass the canon of the latest series, Discovery. Now, from an in-universe perspective, this wouldn't make sense since all the Trek films after 2009 have taken place in the alternate Kelvin Universe, but because the future of the next Trek film is so unclear, it's possible the Prime Universe could make a cinematic comeback.
Right now, regardless of the merger, the future of the next Star Trek film is very confusing. Either Quentin Tarantino is making an edgy new Trek movie, Simon Pegg and Doug Jung's script is still happening, or, something else entirely.
It stands to reason that if the CBS/Viacom merger happens before the next Star Trek feature film goes into production, that merger would impact the decisions of what that film dealt with. Interconnected universes on both TV and in film have worked for Marvel, why not for Star Trek?
More relevantly, way before Marvel had superheroes on TV and on the big screen in the same continuity, Star Trek was doing the same thing in the Nineties. Back then, the film First Contact featured cameos from Deep Space Nine and Voyager characters. And, by the time the second season of Discovery airs, it's totally possible that aspects of the reboot movies could sneak into that series, too. After all, if Spock does appear, there's still the question of who would play him. And if the merger happens, it feels like that would make it very easy for Zachary Quinto to beam over to the USS Discovery.