Showrunners Talk Captain Pike and Spock in 'Star Trek: Discovery' Season 2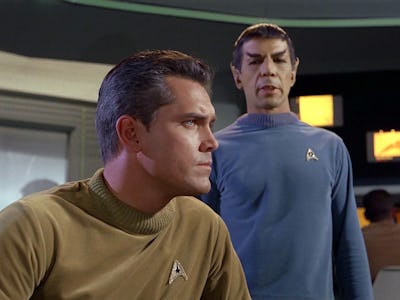 CBS
The captain of the USS Enterprise before James T. Kirk will likely become an important character in the second season of Star Trek: Discovery. Showrunners Gretchen J. Berg and Aaron Harberts have responded to thoughts and questions about Spock and Captain Christopher Pike appearing in the next season of the show.
Spoilers ahead for the Season 1 finale of Star Trek: Discovery Episode 15, "Will You Take My Hand?"
In the last few moments of the Season 1 finale of Discovery, the ship gets a "priority one distress call" from the USS Enterprise. Communications officer Bryce even tells Saru directly that Captain Pike is hailing. For those wondering why Captain Kirk isn't on the Enterprise, it's all because of when Discovery takes place, the year 2256, which is several years before Kirk takes command. Instead, his predecessor Captain Pike was in charge, along with a younger Spock. Basically, everything that happens in Discovery happens two years after the first Trek pilot episode, "The Cage." So, will we see Spock and Pike in the next season?
"Whether or not we see Spock and whether or not we see Christopher Pike … I mean we know very well that they would certainly be aboard that ship hovering over there by Discovery…" Aaron Harberts tells Inverse. "But, we don't want to spoil anything yet. Still, you know, there's always a chance that those two little neighbors will exchange cups of sugar. You never know!"
Because Michael Burnham is Sarek's adopted daughter, she is Spock's stepsister, a fact which became complicated when Discovery revealed how Burnham's denial into the Vulcan Expeditionary Group had weird ramifications with Spock and Sarek's relationship. But, Harberts seems to suggest Captain Pike is the more interesting character to explore. After all, we've seen a lot of Spock.
"More than Spock, any writer, and any fan, would be curious about Christopher Pike," Harberts says. "Depending on how you view 'The Cage,' you've got 'The Menagerie: Parts 1 and 2,' and that's pretty much it for him. So there's an interesting opportunity that we might have to delve into and flesh out a character who I think is a pretty darn heroic and selfless captain."
But if Pike and Spock appeared in Season 2 of Discovery, who would play them? Both original actors — Jeffrey Hunter and Leonard Nimoy — are deceased. However, both characters have appeared in the rebooted Star Trek films starting in 2009. In the first J.J. Abrams Star Trek movie and Star Trek: Into Darkness, Captain Pike was played by Bruce Greenwood, while Spock has obviously been played by Zachary Quinto in all three Abramsverse Trek films. So, would Discovery enlist either Greenwood or Quinto to play Pike or Spock? Notably, Sarek was played by Ben Cross (in the 2009 Star Trek film, but he's played by James Frain in Discovery.
In the canon of the original Star Trek, the year Discovery takes place is actually the same year Captain Pike ended his five-year mission aboard the Enterprise. After that, Pike became a commodore until he suffered a horrible accident which led to the events of "The Menagerie." However, we have no idea what Pike did in between the Enterprise and getting promoted. And, right now, the USS Discovery is technically in need of a new captain…
Star Trek: Discovery's first season is streaming in its entirety on CBS All Access. The series has been renewed for Season 2, but no release date has been announced yet.