Veteran 'Star Trek' Director Is Texting J.J. Abrams About Tarantino Movie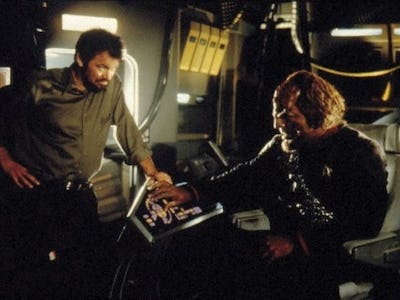 Paramount
If there's one man you can trust with talking straight talk about Star Trek, it's Number One himself, Jonathan Frakes. Speaking at a convention last month, Frakes said he wasn't "convinced" that the much-discussed R-Rated Quentin Tarantino Star Trek film would actually happen. But, Frakes has been texting J.J. Abrams to get some clarity on the rumored script. Leave it to Number One to get to the bottom of this!
According to ComicBook.com, while speaking on stage at the Lexington Comic and Toy Convention, Frakes revealed he's buddies with J.J. Abrams, so much so that he texts with the famed director often. Abrams, of course, is wrapped up in directing Star Wars: Episode IX. But, Abrams is still the producer on all the new Star Trek movies, including whatever film ends up following 2016's Star Trek Beyond. And Frakes has now said that he's actively bugging Abrams for updates on the rumored edgy Tarantino Trek script.
I said 'What's up? What's happening with this?' and I asked him if it is real and so far it is real because they put a writer's room together and he said 'Quentin said it is going to be wild.' So, that is as close as I have gotten to an answer, which is a word we always thought it was going to be anyway."
Though Frakes's comments come from a convention that concluded weeks ago, the Trek actor/director has been weighing in on the Tarantino rumors for a while. Back in January, Frakes told Inverse his specific advice to Tarantino before taking on a Star Trek film. "Don't forget the heart," Frakes said.
Meanwhile, Star Trek Beyond writer/actor Simon Pegg clarified last month that his script for a sequel to Beyond is separate and distinct from whatever Tarantino is cooking up with J.J. Abrams.
But, all of this could change if a rumored Viacom/CBS merger recombines Star Trek films with Star Trek TV. Right now, those two mediums are separate. But, a merger could make the Trek franchise whole again. Which, would be just like the good old days; back when Jonathan Frakes was directing Star Trek: First Contact, playing Riker in the movie, while characters from Voyager and Deep Space Nine could freely appear on the silver screen.