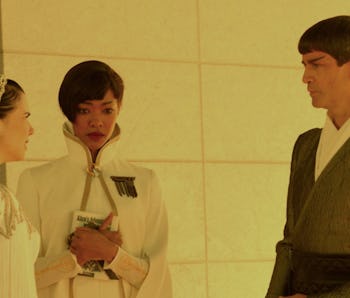 Entertainment
The Legal Reason 'Star Trek' Reboot Movies Might Crossover With 'Discovery'
CBS
Imagine a Star Trek world where Captain Lorca teams up with Captain Kirk. No, it's not a case Jason Isaacs and William Shatner settling another Twitter beef. Instead, this version of Captain Kirk would be played by Chris Pine from the reboot films. If one under-the-radar Hollywood merger happens, Trek films and TV could become united again, allowing for all sorts of crossovers.
On January 12, The Wrap reported that Viacom (the parent company of Paramount Pictures) and CBS are in talks for a merger. As far as Trek fans are concerned, this would effectively undo what happened in 2005, when the Viacom and CBS parted ways. After Enterprise ended that same year, there weren't any new Star Trek stories produced, outside of comics and novels. At that point, the film rights stayed with Paramount, while CBS kept distribution rights for all the TV series. In 2009, when the J.J. Abrams reboot films began, a caveat emerged that prevented CBS from releasing new Star Trek TV series until 2017. But now, all this division might change.
If Viacom merged with CBS again, Star Trek could suddenly have the ability to rebuild a shared TV and cinematic universe, one it briefly enjoyed in the 1990s. Back then, having references to Deep Space Nine in a Star Trek movie like 1996's First Contact wasn't uncommon. Further, Leonard Nimoy even appeared as Spock on The Next Generation in 1991, as kind of prequel/sequel reference to the release of Star Trek VI: The Undiscovered Country.
To be fair, when it comes to comic books, novels, video games and other Star Trek media, licensing deals to feature characters from both the features films and TV series can usually be worked out. For example, IDW comics have the Star Trek Boldy Go series, which features the reboot crew, but also a new Star Trek: Discovery comic book series, and several others that span the entire saga. This same comprehensive Trek coverage is true of Simon and Schuster, who publishes a variety of Trek novels across several aspects of the canon.
But, obviously, what happens on the screen is really what counts for Trekkies. And, if CBS and Viacom do combine, the possibilities of connecting all sorts of universes within Star Trek could get interesting.
The big question, of course, is this: what does all of this means for the rumored Quentin Tarantino Star Trek movie supposedly in-development? Though nothing's been confirmed, it does seem possible that this hypothetical film could benefit from Tarantino having access to more of the Trek canon. And, considering Discovery has a starship capable of jumping between dimensions, it sees like the human adventure is just beginning…again.