Quentin Tarantino's R-Rated Star Trek Might Not Actually Be Rated R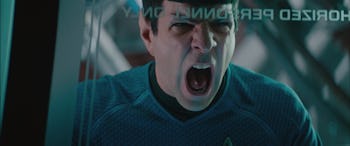 Paramount Pictures
Quentin Tarantino shocked Trekkies with news that he was going to make a supposedly R-rated Star Trek movie, one that would make Into Darkness's name seem like a lame joke. But, none other than Montgomery Scott says that might not be the case.
During a red carpet appearance on Sunday night, Simon Pegg, who played Scotty in the three new Star Trek movies and co-wrote Beyond, said the R-rating isn't a sure thing.
"I don't think he's written an R-rated Star Trek script," he explained while talking to Hey U Guys. Pegg went on to explain that, while Tarantino is certainly working on a Star Trek movie, fans who are under the age of 18 might end up being able to buy a ticket to see the Enterprise's next adventure:
I think what happened is he went to JJ [Abrams] with an idea that he has had for a while. I remember he told us about it a long time ago. I think he told me and Edgar [Wright] about it a long time ago. He just put it to JJ and JJ is considering putting it into a writing room. We got an email just saying "Guess who came into the office the other day!" So, I don't know much about it, other than the fact that it is sort of in the mix. So, we will see.
It's possible, based on what we can glean from Pegg's comments, that Tarantino didn't sit down and think to himself "I am going to write an R-rated Star Trek movie." He probably just wrote whatever that idea he's had for a while, though given the director's filmography, it wouldn't be that surprising if it were still darker and more complex than typical Star Trek fare.
As you might assume, given how nebulous the chatter around Tarantino's Star Trek is, the movie does not have a release date.