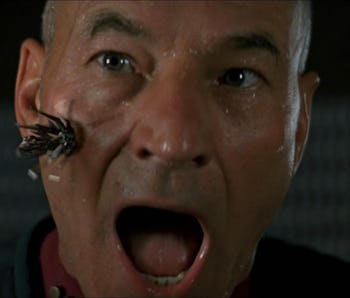 Entertainment
New R-Rated 'Star Trek' Movie Confirms Screenwriter
Set phasers to dark and gritty. The next Star Trek feature film — directed by Quentin Tarantino — is really happening, and has now confirmed its screenwriter. Mark L. Smith of Revenant fame will pen the script for the next Star Trek movie. Here's how Trekkies need to figure out how to deal with that.
On Thursday, Deadline reported: "Paramount Pictures has set Mark L. Smith to write the script for the R-rated Star Trek movie that was hatched from an idea by Quentin Tarantino." Journalist Mike Fleming Jr. also notes that Smith is "a writer whose breakthrough came on one of the most celebrated spare dialogue films of recent years will team with Tarantino, a writer/director whose own scripts have run 165 pages or more, full of dialogue."
It's a funny observation, but it might not be the worst news in the world. If there's one thing Star Trek films have grappled with over the years, it's finding a balance between technobabble dialogue in which characters over-explain complicated science fiction concepts (i.e. aspects of Star Trek: Insurrection) and rely on classic literature and Shakespeare (Star Trek II, Star Trek VI, etc.). So, maybe the combination of Smith and Tarantino is a good thing. At the very least, this pairing has the potential to create a Star Trek film that feels radically new from anything the franchise has attempted before.
Still, when it comes to directing and writing Trek films, Tarantino and Smith are in something of a deficit. As many Trek fans, experts, and historians point out, the concept of Star Trek tends to work better as an episodic TV series rather than feature films. And that's because of the time constraint and the nature of films. As Rainn Wilson told Inverse this fall, it's hard for big-budget movies to show "people landing on planets and exploring strange civilizations in a contemplative way."
All of this just means that the style and tone of the new R-Rated Trek movie are less important than the subject matter. Will audiences be subjected to another Star Trek film about revenge? Or could Tarantino and Smith decide to take a risk and actually do some real science fiction for a change? In 1979, Star Trek: The Motion Picture promised that "the human adventure is just beginning." And maybe, with this unique cocktail of creative forces, that can be true again.
As of this writing, Paramount Pictures has not confirmed the new Star Trek movie project, nor have they addressed how this will impact the three existing "reboot" films. In short, the canonicity of the new Trek film is still very much an undiscovered country.