'Star Trek: Discovery' Will Certainly Live Long and Prosper
Despite hand-wringing, 'Discovery' looks set up to succeed.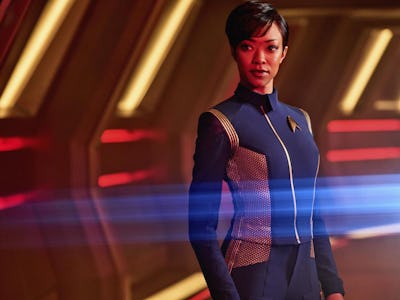 As the starships Discovery and Shenzhou approach at warp speed, Trekkies and critics around the globe are holding their breath: The most enduring television phenomenon in the history of pop culture is making a comeback this Sunday. And despite hand-wringing from Trekkies, Star Trek: Discovery will almost certainly live long and prosper, even if it fails conventionally; for proof, all you have to do is look back at the run-up to every other Trek enterprise.
"There's always 10 percent of loud fans screaming," Larry Nemecek tells Inverse. "We had it with The Wrath of Khan and before The Next Generation too."
Nemecek has been involved professionally with Star Trek fandom since 1986 and also edited the officially sanctioned Star Trek Fan Club Magazine, Star Trek Communicator from 1998 to 2005. He's watched Trek fandom evolve for decades and explains that "some fans are so passionate about it that they become fearful of change."
If you read certain corners of the internet, then you might believe that CBS streaming-only platform is enough to declare Star Trek: Discovery dead-on-arrival. There's also concern about those all-blue uniforms and new look for the Klingons means the show is ignoring canon.
Nit-picking fans probably aren't the majority of people interested in Star Trek, Nemecek says. Casual viewers will make or break the next generation of Star Trek, made for a streaming, digital native audience.
"I have faith in the armchair fans," Nemecek says. And while he personally loves the nitty-gritty of Trek specifics, Nemecek points out that the larger concepts of "what Starfleet is about" and the nature of characters is what people love about Star Trek.
"Star Trek is a character and not spectacle-driven show full of heady ideas and allegory," author Mark A. Altman tells Inverse. "The ideal medium for Star Trek has always been and always will be television." As far as experts go, you can't-do much better than Altman. He's the co-author of a two-volume oral history of Star Trek called The Fifty-Year Mission, plus the LA Times also once called him "the world's foremost Trekspert."
After its debut episode airs on regular broadcast CBS in the United States, the rest of Star Trek: Discovery will air exclusively on CBS All-Access, a new subscriber-only streaming service. After the first episode — "The Vulcan Hello" — airs conventionally on Sunday, the second episode will be streaming on CBS All-Access that same night. So, the big question is, will Star Trek fans and casual viewers pony-up extra money to watch the entirety new show?
"It's certainly led to some pre-show controversy, which is too bad," Nemecek says in response outcry over the streaming-only decision. "But overseas people are all yawning. It's on Netflix! Which is a brilliant move! And that global audience may be blessing in disguise for Discovery. It's something like three-fourths of the budget has been provided from the Netflix sale. So that's a buffer right there."
For Nemecek, this is simple math: die-hard fans are getting a 15-episode new Star Trek series whether it succeeds in finding a wide audience or not. Plus, the global Netflix backing means even if the CBS All-Access gambit isn't wildly successful, there still will probably be a second season.
"The stakes are higher and the expectations are higher, but CBS has made a serious financial commitment to the series along with Netflix internationally," Altman says. "So it's likely we'll be seeing a series that looks far better than any Star Trek we've ever seen."
Altman also points out that CBS putting Discovery on a streaming-only service is analogous to The Next Generation being syndicated in 1987. "People forget that when The Next Generation was originally conceived, NBC and Fox were both in the hunt to air it, but would only commit to 13 episodes which prompted Paramount to launch in first-run syndication," he explains.
"I am absolutely positive had TNG been on either of those networks, it would have been canceled in its first season." For Altman, the syndication of yesteryear is the streaming service of today. "By using it as the bedrock of their streaming service, CBS has major skin in the game and financial incentive to spend real money on these series which they are."
So will, Trekkies shell out money to watch new adventures of two ships that are boldly going — once again — where no one has gone before? Altman thinks the answer is pretty obvious.
"I laugh when people say I'm not going to pay $4.99 a month to watch Star Trek," he says. "Of course, you are. You pay more for coffee in a week."
Star Trek: Discovery* hits CBS All Access on September 24. CBS has disallowed advanced reviews of the show. Which means Trekkies everywhere will experience the new, bold adventures totally spoiler-free.
READ NEXT: Star Trek: Discovery Review Embargo Means Big Twists Are Coming
If you liked this article, check out this video that explains why Klingons look different on Star Trek: Discovery.