11 Best Science Fiction Movies and Shows on Netflix March 2018
Sci-fi TV on Netflix has almost never looked this good.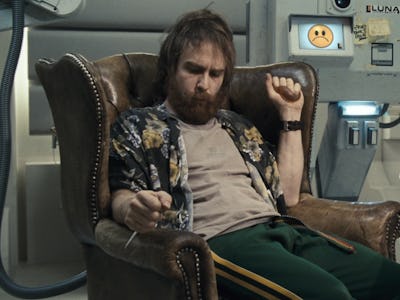 Sony Pictures Classics
What would you do if you could upload your brain into a computer chip and live forever through new body after new body time and time again? What about if you were continuously cloned as a seemingly infinite source of slave labor?
These are just a couple of questions the best sci-fi on Netflix this month might make you think about. The company's investing $8 billion dollars into original programming in 2018, with a sizable chunk of that going to sci-fi, anime, or even sci-fi anime.
Across this list of Netflix's sci-fi best, you'll find two brand-new anime series, a modern sci-fi classic from David Bowie's son, and the latest film in the Cloverfield universe. There are frighteningly dark futures, cautionary tales, and fantastical feats of technology.
So for the next time you're hankering for a taste of tomorrow, here are the 11 best pieces of science fiction that Netflix has to offer:
11. Mute
The third film set in the sci-fi universe built by Duncan Jones with Moon and then Source Code, Mute stars Alexander Skarsgård as a mute bartender investigating the disappearance of his girlfriend in 2052 Berlin.
A deeper mystery brews as he comes up against the city's gangsters and a strange pair of AWAL U.S. Army surgeons. Paul Rudd, who plays one of the surgeons, called Mute "Casablanca with a Blade Runner setting," and he couldn't be more accurate. The story feels tragic and romantic and the sci-fi world feels more like a backdrop rather than the main conceit it could have been, which sort of makes it even more interesting.
10. Moon
Speaking of Moon, Duncan Jones's first sci-fi thriller is hitting Netflix later this March. Arguably his best film, Moon is a bonafide modern classic from 2009 that sees a lonely astronaut mining the moon by himself. Over time, he realizes the startling truth about his mission that's just too good to spoil here. Do yourself a favor and watch this one as soon as it's out.
9. The Cloverfield Paradox
Pretty much everybody was surprised when Netflix aired a trailer for The Cloverfield Paradox during the 2018 Super Bowl and released the movie itself immediately after.
This third film set in the universe tells the story of a team floating out in space trying to get a particle accelerator to work so it can solve the energy crisis on Earth. Instead, they sort of shatter reality and cause all sorts of disasters across the multiverse (which means what happens here caused the monsters in aliens that appear in other movies). The plot itself winds up feeling a bit disjointed, but the hard sci-fi elements of horror are pretty rad.
8. When We First Met
Hot Tub Time Machine might have harder sci-fi elements than When We First Met, but this goofy rom-com is a fun rehashing that feels like a less profound Groundhog Day.
Adam DeVine plays a guy who gets friendzoned by the girl of his dreams only to realize that the photo booth they used on the night they first met is actually a time machine. He goes back again and again, exploring different timelines along the way. When We First Met has the look and feel of a more accessible and less crass alternative to Workaholics, which is where most will recognize its lead actor from.
7. Bright
In an alternate reality that looks an awful lot like the present day, fairies, orcs, and elves have existed alongside humans for seemingly forever. What's more or less a modern day fantasy story — or more accurately "urban fantasy" — feels an awful lot like fantastical science fiction.
Will Smith plays a cop opposite Joel Edgerton's Orc police officer as partners thrust into an adventure to protect a female elf and the forgotten relic she holds that could destroy the world.
6. B: the Beginning
This original anime series produced by Netflix and Production I.G. (famous for Ghost in the Shell) is an action-packed murder mystery set in a world powered by futuristic technology.
The genius investigator Keith Flick rejoins the royal police force just as a serial killer going by "B" emerges, which makes this kind of like Sherlock Holmes versus Jack the Ripper in a sci-fi setting. Meanwhile, scientists are also trying to create "new humans" to save the world, which might just damn them all.
5. A.I.C.O.: Incarnation
This new original anime series is like Annihilation mixed with Blue Gender, because there's some kind of extraterrestrial quarantine zone that threatens to consume the world. So humans try to figure out a technological way to fight the menace. A.I.C.O.: Incarnation looks like it could be Netflix's next big win, except for some reason people put roller skates on their futuristic armor, so who knows.
4. Altered Carbon
Altered Carbon is Netflix's sci-fi television alternative to Blade Runner with a premise that might as well be an "altered carbon" copy: The lone survivor of an elite group of soldiers is resurrected into a new body 250 years after his last death to solve a murder. Most people have their consciousness put into a chip — called a "stack" — in their spine. After death, the stack can be inserted into a new "sleeve" body, which looks and feels just like a humanoid Cylon or Replicant.
Whereas Blade Runner might opt for brooding, contemplative sequences absent of dialogue, Altered Carbon explodes into Matrix-esque high-tech action sequences that feel almost too good for a TV show. Rest assured, protagonist Takeshi Kovacs is a total badass, even in a new body.
Plagued by hallucinations of his former companions, Kovacs explores his own distant future seeking the truth in a show that's stylistic and surreal. Despite bearing a striking to resemblance to much of the sci-fi that's come before it, the story feels novel all the same.
3. Black Mirror
Though it dips into the realm of horror and satire, Black Mirror is consistent with one question: what can technology do to us when it's taken to extremes? Some episodes have more to do with social media or YouTube obsessions, but others dive deep into the implications of many hard sci-fi concepts, including the cyberization of the human mind, technological surveillance, and human-like A.I. machines. It's provocative and exciting at its best, and downright disturbing at its worst — but even then, it's still high-quality science fiction.
Just released in late December 2017, Season 4 offers bleak and oftentimes disturbing analyses of not just the startling things technology might be able to do in the future, but also the dark and horrific things people choose to do with it. The episode everyone will probably talk about looks like a Star Trek parody, but in Black Mirror fashion is a much more sinister meditation on the dark wish-fulfillment of technology.
2. Neo Yokio
"What if Wes Anderson made an anime?" seems to be the question that Netflix's Neo Yokio asks and answers in a hilarious magi-futuristic animated series created by Vampire Weekend frontman Ezra Koenig, starring Jaden Smith. There's also a slew of other top talents in the cast of voice actors.
In the future of an alternate history, a drowned New York is called "Neo Yokio." Kaz Kaan is the pink-haired "magistocrat" tasked with protecting the city from supernatural (mostly demonic) threats. Neo Yokio celebrates anime tropes, upper-class society, and classism just as much as it criticizes such things. If you delight in the truly weird, then don't hesitate watching the hilarity that is Neo Yokio.
Netflix's wildly popular and totally awesome '80s nostalgia show about pre-teens combatting interdimensional threats came back for its second season just before Halloween. Though it inches towards dark mythical fantasy, Stranger Things represents some of Netflix's best original programming.
In Season 1, after the young Will Byers goes missing from the small town of Hawkins, Indiana and a mysterious telekinetic girl appears, it's up to Will's friends and family to uncover the truth about the mysteries surrounding his otherworldly disappearance.
Stranger Things 2 brings the whole gang back — along with some newcomers — for a bigger adventure set a year later.
Past Updates: