The 11 Best Science Fiction Movies and Shows on Netflix January 2018
Sci-fi TV on Netflix has almost never looked this good.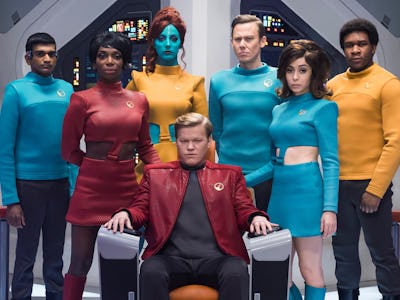 Netflix
The genre of science fiction is a lot more than just casual spacefaring romps through galaxies near and far. It's also about computerized simulations that we're probably living in right now, and alternate histories that make the world similar but totally different. Unfortunately, sci-fi can also mean even darker visions of the future than our own.
Across this list of several items from Netflix's sci-fi best, you'll encounter more than a few dark futures meant to frighten you, tried and true exploration sci-fi classics, cautionary tales of more than one kind, and even props to everyone's favorite Eggo-loving telekinetic.
See Also: Science Fiction and "True Crime" Stole the Show on Netflix in 2017
Netflix has you covered with a motley assortment of sci-fi in the form of both movies and television shows. So here are the 11 best pieces of science fiction that Netflix has to offer right now for the next time you're hankering for a taste of tomorrow:
1. Black Mirror
Though it dips into the realm of horror and satire, Black Mirror is consistent with one question: what can technology do to us when it's taken to extremes? Some episodes have more to do with social media or YouTube obsessions, but others dive deep into the implications of many hard sci-fi concepts, including the cyberization of the human mind, technological surveillance, and human-like A.I. machines. It's provocative and exciting at its best, and downright disturbing at its worst — but even then, it's still high-quality science fiction.
Just released, Season 4 offers bleak and oftentimes disturbing analyses of not just the startling things technology might be able to do in the future, but also the dark and horrific things people choose to do with it. The episode everyone will probably talk about looks like a Star Trek parody, but in Black Mirror fashion is a much more sinister meditation on the dark wish-fulfillment of technology.
Black Mirror Season 4 was released December 29, 2017.
2. Futurama
You'd better start your re-watch binge now because before you know it the beloved animated sci-fi comedy will be leaving Netflix. In Futurama, the hapless pizza delivery boy Philip J. Fry is accidentally cryogenically frozen for 1,000 years and wakes up in a distant future he barely recognizes.
Created by Matt Groening — who's perhaps best-known for creating The Simpsons — Futurama follows Philip J. Fry as he makes friends and finds employment with Planet Express, an interplanetary delivery company. The weird cast of characters includes mutants, robots, humans, and all sorts of aliens. The sci-fi adventures, while lighthearted, can sometimes also get fairly compelling for a show that's easily described as The Simpsons but sci-fi.
Futurama will be leaving Netflix January 30, 2018.
3. Colony
Set in a dystopian near-future Los Angeles, Colony follows a family reeling in the aftermath of an alien invasion that led to a regime of military occupation. Most viewers will recognize the lead, Josh Holloway, from his role as Sawyer in Lost. In Colony, he's a former FBI Special Agent that just wants to find his lost son Charlie amidst the horrific circumstances.
With Season 2 dropping on the streaming service soon, there's no better time to finally give this compelling sci-fi drama a watch.
Colony Season 2 hits Netflix on January 12, 2018.
4. Travelers
The titular "Travelers" are individuals who have their consciousness sent back in time to prevent the total breakdown of society. It becomes something of a spy thriller with a sci-fi twist as each Traveler communicates with the Director in the distant future to go on specific missions while maintaining their "cover." Travelers is truly for spy fans who like their sci-fi steeped in time travel.
Season 2 of Travelers released on Netflix December 26, 2017.
5. Knights of Sidonia
One of the earliest and best of Netflix's exclusive anime programs, Knights of Sidonia is a solid entry into the mecha subgenre of anime while also being hard sci-fi.
In 3394, the last remnants of humanity live aboard a massive arc — called Sidonia — after being driven off Earth by the shape-shifting aliens called Gauna. Using giant mecha, referred to as Gardes, pilots like Nagate Tanikaze have to defend the arc and its inhabitants from extinction.
With impeccably clean CG animation and carefully scripted character movements, Knights of Sidonia is a visual spectacle while also being solid sci-fi set in the far-flung future. While aspects of the show might be alienating to viewers unused to the trappings and tropes typical of anime, this one could be an accessible entry point.
See also: "'Knights of Sidonia' Is the Pinnacle of Gritty Mecha Anime"
6. Sword Art Online
Sword Art Online feels a lot like the kind of sci-fi cautionary tale premise you'd get in an episode of Black Mirror: tons of gamers log on for the launch day of a hyper-immersive VR online game only to find that it's impossible to log out and death in-game equals real-life permadeath. The game itself is all medieval swords and knights with almost no magic, but the show is good about constantly reminding the viewer that the fantastical world is just a sci-fi trapping for a more compelling story.
For a long stretch in its beginning, Sword Art Online is one of the best anime stories ever — and a damn good love story as well — but the plot careens in bizarre directions that eventually disturb more often than they delight in Season 2.
See also: "Somehow, an Anime About a Video Game Has the Realest Stakes"
7. Neo Yokio
"What if Wes Anderson made an anime?" seems to be the question that Netflix's Neo Yokio asks and answers in a hilarious magi-futuristic animated series created by Vampire Weekend frontman Ezra Koenig and starring Jaden Smith. There's also a slew of other top talents in the cast of voice actors.
In the future of an alternate history, a drowned New York because "Neo Yokio." Kaz Kaan is the pink-haired "magistocrat" tasked with protecting the city from supernatural (mostly demonic) threats. Neo Yokio celebrates anime tropes, upper-class society, and classism just as much as it criticizes such things. If you delight in the truly weird, then don't hesitate watching the hilarity that is Neo Yokio.
See Also: "'Neo Yokio' Is Like If Wes Anderson Made an Anime Series"
Netflix's wildly popular and totally awesome '80s nostalgia show about pre-teens combatting interdimensional threats came back for its second season just before Halloween. Though it inches towards dark mythical fantasy, Stranger Things represents some of Netflix's best original programming.
In Season 1, after the young Will Byers goes missing from the small town of Hawkins, Indiana and a mysterious telekinetic girl appears, it's up to Will's friends and family to uncover the truth about the mysteries surrounding his otherworldly disappearance.
Stranger Things 2 brings the whole gang back — along with some newcomers — for a bigger adventure set a year later.
You can only find Star Trek: Discovery on CBS All Access, but Netflix has an ample collection of the sci-fi TV juggernaut. Not only is there the original Star Trek from the late '60s, but there's also the animated series from the early '70s, along with The Next Generation, Voyager, Enterprise, and Deep Space Nine. Strong opinions among hardcore fans vary about which is best, but with such a massive franchise, how could you go wrong?
10. Bright
In an alternate reality that looks an awful lot like the present day, fairies, orcs, and elves have existed alongside humans for seemingly forever. What's more or less a modern day fantasy story — or more accurately "urban fantasy" — feels an awful lot like fantastical science fiction.
Will Smith plays a cop opposite Joel Edgerton's Orc police officer as partners thrust into an adventure to protect a female elf and the forgotten relic she holds that could destroy the world.
Bright only just released on Netflix December 22, 2017.
11. Guardians of the Galaxy Vol. 2
We're not to keen on including the Marvel Cinematic Universe on this list, which is usually reserved for somewhat harder science fiction, but we'll make an exception for James Gunn's second Guardians of the Galaxy movie.
Whereas other MCU adventures focus on superheroes and billionaires with flying armor, Guardians of the Galaxy offers a bonafide sci-fi adventure in the Andromeda galaxy with plenty of aliens, space travel, and other heady sci-fi concepts like wormhole travel. A literally and figuratively colorful assortment of heroes battle to save the galaxy — again — this time from Peter Quill's biological father, an ancient entity as old as the universe itself. Added bonus: a totally rad soundtrack.
Past Updates: