John Boyega on 'Blade' Role: It Would "Spit in the Face" of Wesley Snipes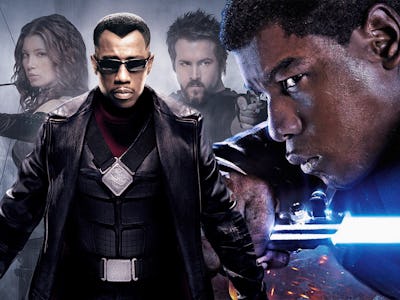 Lucasfilm, New Line Cinema
Twenty years after Wesley Snipes daywalked as a vampire hunter in the gothic superhero movie Blade, Marvel fans are eager to see Star Wars star John Boyega take up the role. Those fans could be in luck, but no one knows for sure — except John Boyega and Marvel.
During a panel at AwesomeCon in Washington D.C. this past weekend, the star of The Force Awakens and The Last Jedi revealed that has had "meetings" with Marvel Studios about an undisclosed role. Bounding Into Comics, which was at the panel, reported that Boyega's meetings were for a role "way down the line" and "most likely wouldn't be happening in the near future."
While Boyega could be up for any role in Marvel's library, the looming question is if Boyega could succeed Snipes as the dark superhero, Blade. At AwesomeCon, a fan dressed as Blade asked Boyega point blank if he'd be interested in the role. Boyega, paying homage to Snipes, said "[it would] spit in the face of Wesley [Snipes] if I took Blade."
"[I'm] all for Wesley [Snipes] playing Blade," Boyega added.
The idea of Boyega as Blade began in a Reddit AMA for Pacific Rim: Uprising in March, when a fan posited the idea. "You genius," Boyega told them, which naturally sparked the internet's curiosity. The idea was taken a step further when popular web artist BossLogic imagined Boyega in Blade make-up.
Between 1998 and 2004, Wesley Snipes starred as the semi-obscure Marvel superhero Blade in a trilogy of films, including Blade II from Guillermo del Toro. The first Blade preceded X-Men in 2000, which is largely credited with starting Hollywood's 21st century superhero movie boom that's lasted for nearly twenty years straight.
Interestingly, Snipes originally campaigned to headline a film based on Black Panther, but Snipes was unable to get the project off the ground. In a 2018 interview, Snipes said Blade was a compromise, because he could still live out his dream of playing a superhero — Snipes loved comic books as a kid — but the filmmakers didn't have to worry about trying to bring Wakanda to life with comparatively limited resources. "[T]he technology wasn't there to do what they had already created in the comic book," Snipes said. This year, Marvel's Black Panther grossed over a billion dollars worldwide.
Avengers: Infinity War will be released on April 27.