'Blade' Created the Superhero Movie Boom, Not 'X-Men'
In the wake of 'Black Panther,' Marvel fans are appreciating the 20-year-old 'Blade.'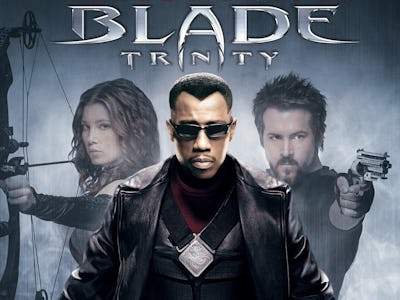 New Line Cinema
Twenty years ago, Blade hit theaters with action star Wesley Snipes as a slick vampire hunter with a ninja sword and Oakley sunglasses. An adaptation of a Marvel comic book no one heard of, the film was a success that spawned two sequels and a (short-lived) television series.
Today, there's new appreciation for Blade following Monday's Hollywood Reporter interview with Snipes, in which the actor explained how he spent the nineties trying to make a Black Panther movie. When his passion project was put to rest, Snipes shifted to Blade, a Marvel superhero even less known by the mainstream. Like Black Panther, Blade was also a black hero with powers based in martial arts (Snipes has black belts in Shotokan Karate and Hapkido).
Physically, Blade was a great substitute for Snipes, but thematically Blade lacked the nuance of T'Challa, the warrior-king of Wakanda, an African nation never subjected to colonialism. Snipes was aware of Black Panther's significance and wanted to play that onscreen, but he had to settle for killing vampires instead, an easier sell given Hollywood's long love for vampire and monster horror.
In 2018 there's superhero media everywhere, but it's usually Bryan Singer's X-Men that gets credit for the superhero boom. But in the wake of overwhelmingly positive reviews for Black Panther, fans are expressing appreciation for the Blade films, which were simultaneously prescient as they are relics of early 21st century action movies.
Strictly speaking, Blade isn't even the first black superhero movie. (Remember Spawn? Or Steel?) But Blade was one of the first successful superhero movies, one that happened to have a black lead, and it paved the way for future hits like X-Men that got the superhero train moving.
But Blade's arrival, two years before X-Men, is still recognized as equally important. The film featured a leading black superhero in a time when there were almost no movie superheroes, except Batman and Superman. (Even Batman was MIA after 1997's Batman & Robin, which pretty much ended Batman movies until 2005. Now, we get a Batman movie every six months.)
"Even people IN Comics forget or avoid mentioning Blade," tweeted comics writer Gail Simone on Wednesday. "Without Blade, there would have not been a successful X franchise copying it. Without X-men, Marvel as a movie powerhouse might never have come to pass. Blade was the first domino."
Sonny Bunch of The Washington Post echoes Simone, saying Blade "served as a proof of concept for Marvel's jump into the world of big budget licensed filmmaking. If you want to look at the current glut of superhero movies, Blade is as good a place to start as any."
An obscure character even to many nerds before 1998, Blade was created by Marv Wolfman and Gene Colan in 1973 in Marvel's Tomb of Dracula comics. In a 2001 interview, Colan said of Blade as a black man:
"Oh, I knew it was good, this character. Blacks were not portrayed in comics up to that time, not really. So I wanted to be one of the first to portray blacks in comics. There were black people in this world, they buy comic books, why shouldn't we make them feel good? Why shouldn't I have the opportunity to be one of the first to draw them? I enjoyed it!"
Marvel's Black Panther is already being showered with glowing reviews, which hail the film as a cultural phenomenon and an important entry in not just Marvel's franchise, but the wider scope of popular culture. The film, directed by Ryan Coogler, is bound to be a thrilling, and even revelatory, time at the theater. Some fans just want to remind others how we got here.
Marvel's Black Panther will be released in theaters on February 16. Blade, Blade II, and Blade: Trinity are available now on DVD, Blu-ray, and on digital platforms.