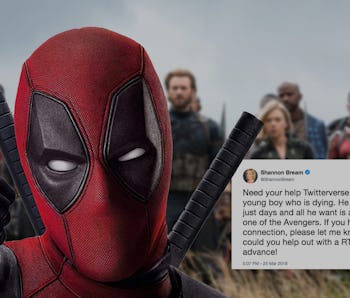 Entertainment
Some Avengers (Plus Deadpool) Are Doing an IRL Heroic Team-Up
Marvel Entertainment, 20th Century Fox
It will take the combined might of the Avengers and the Guardians of the Galaxy to fight Thanos in Avengers: Infinity War. But it might take just as many, plus Deadpool, to make a child in need smile.
On Sunday, Fox News host Shannon Bream asked Twitter for help in getting the big screen heroes of Marvel to greet a terminally ill child named "Emilio." In response came Chris Evans, Paul Bettany, Zachary Levi, Chloe Bennett ("Quake" on Agents of S.H.I.E.L.D.) — and Ryan Reynolds, the star of Deadpool.
"Need your help Twitterverse - trying to help a young boy who is dying," Bream wrote on her Twitter page on Sunday evening. "He probably has just days and all he want is a greeting from one of the Avengers. If you have a celeb connection, please let me know. Otherwise, could you help out with a RT? Thank you in advance!"
Within 12 hours, Bream was contacted publicly by a slew of Marvel actors, from Captain America (Evans) to Quake (Bennett) to Thor ally Fandral, played by Levi, who is also shooting the DC movie Shazam as its titular hero. While the rest of the MCU have yet to comment publicly, those who have already chimed is not a bad crossover of heroes.
The one who takes the cake, however, is Ryan Reynolds, who replied to Bream, calling himself a "reserve Avenger." The joke, plus his generosity, further proof that Reynolds may have been the absolute best casting for any superhero since Christopher Reeve was Superman.
For Marvel fans, this is the closest thing they'll get to see Deadpool join the Avengers in — well, anything. At least not until the Disney/Fox merger is all settled. Meanwhile, no one appears to have asked the Justice League.
Inverse reached out to Bream for more information.
Avengers: Infinity War will be released on April 27.