'Avengers: Infinity War' TV Spot Reveals Teen Groot's Bad Attitude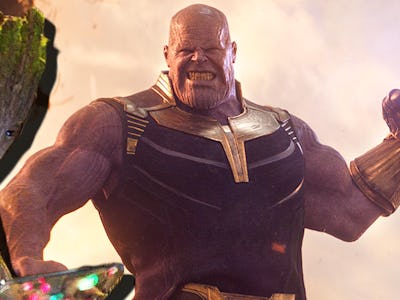 Marvel
The long-awaited Infinity War is imminent, but not everybody is excited about Marvel's biggest movie. Teen Groot couldn't care less, based on a new TV spot for the third Avengers film which aired on Sunday night.
In the spot, which begins with Thanos proclaiming that "the end is near," and features T'Challa giving a small rousing speech about how they're fighting for everybody, ends with a brief scene aboard Star-Lord's ship, the Milano. As they fly into what's likely a dangerous situation, Star-Lord looks back at Groot, in the same teenaged form as we saw him in Guardian of the Galaxy Vol. 2's post-credits scene, and tells him to stop playing video games.
"Groot put that thing away. Now. I don't want to tell you again. Groot?"
"I am Groot," replies Groot, his voice dripping with teenage sarcasm.
"Woah! Language!" Star-Lord replies, aghast. Drax and Gamora also seem taken aback by Groot's potty mouth. (Though, for what it's worth, we've already seen Groot swear. In Guardians of the Galaxy Vol 2 he welcomed Yondu to "the frickin' Guardians of the Galaxy, only he didn't use 'frickin'," as Rocket Racoon translated.)
It's looking like the Guardians, along with maybe Spider-Man, are going to be the main sources of comic relief in Infinity War, which checks out.
Interestingly, the spot premiered during overtime of the Duke and Kanas March Madness game. Had the game, which Kansas eventually won, not gone into overtime, it's possible that the spot would've aired during the first commercial break of 60 Minutes. That's pretty prime real estate, seeing as 60 Minutes's interview with Stormy Daniels, the porn star who is accusing Donald Trump of paying her hush money and later threatening her to keep their affair secret, was the most-watched episode of the show in a decade.
Avengers: Infinity War opens on April 27.