Snapchat Ad That Asked Users to "Slap Rihanna" Cost App $800M
The stock price is not shining like a diamond.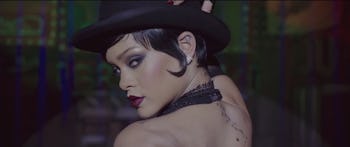 YouTube user: ONE Media and STX Entertainment
Snapchat is not doing well with celebrities. The app continues to see a fallout after Rihanna responded to an offensive ad, resulting in the loss of almost 1 billion dollars.
Wall Street Journal reported the shares of Snapchat took a tumble last Thursday resulting in a market value loss of $800 million. This came after Rihanna criticized the app for displaying an ad for a mobile video game called Would You Rather? that asked whether a user would slap Rihanna or punch Chris Brown.
"All the women, children, and men that have been victims of [domestic violence] in the past and especially the ones who haven't made it out yet… you let us down!" she said in an Instagram story.
Since the response, Snapchat's stock price continued to fall, ending the week at $17.01 from a high on Monday of $18.28.
The social media app has not been the same since an update in early February changed its user interface. More than 1 million people signed a petition to revert the app to its original look. Even with so many disgruntled users, Snapchat CEO Evan Spiegel said they won't undo the changes.
Complaints about the update have investors backing away from the app, causing the company's stock price to drop since the change. The most notable user to share her dismay was Kylie Jenner. Once considered the "Queen of Snapchat," Jenner expressed her dissatisfaction with the changes in a tweet in late February.
It was more than a year ago when Snapchat went public. It's been a year of ups and down for its stock, which started on March 2, 2017 at $17.