Snapchat CEO Evan Spiegel Comments on the Update That People Hate
He offers a blunt assessment.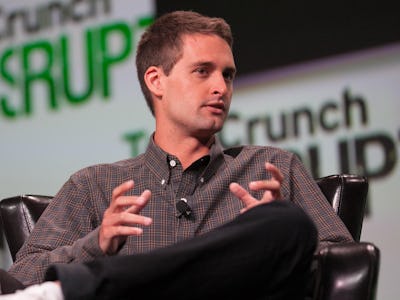 Flickr / jdlasica
No complaints will get Snapchat to back off its redesign.
After countless pleas and even a million-signature petition calling for Snap, Inc., to rethink its criticized new app update, the company's CEO says it's not going to undo it. Albeit in a somewhat harsh tone to the platform's primarily young user base.
"People are saying, 'I used to feel like this celebrity was my friend and now they're not my friend anymore.' Exactly," Spiegel said Thursday during the Goldman Sachs Internet & Technology Conference. "They're not your friend."
"The tech is an important piece but I think the harder part you can't get around is the time it takes to learn," Spiegel said, in comments reported by TechCrunch. "You do need folks to use the product, to communicate with their friends to learn how to better provide that feed. The tech to some degree is a solved problem, the time to… to learn is a hard problem to solve. Even the complaints we're seeing reinforce the philosophy. Even the frustrations we're seeing really validate those changes. It'll take time for people to adjust, but for me using it for a couple months I feel way more attached to the service."
The Snapchat founder went on to explain that "some of the complaints we are seeing are reinforcing our philosophy."
Despite the negative pushback from both users and even celeb power users like Kylie Jenner, Spiegel says the company is "excited about what we are seeing so far."
The update included a new "Friends" tab that displays a non-chronological feed, along with a new Discover section. The app now features users' own Story under their profile page, whereas it used to appear on top of friends' Stories.
The other changes Snapchat made were to the Group Chats, which got their own page and optional Story tab. Meanwhile, the famous Snap Map has been moved, too, and now appears on the Discover page and in Search. Before the update, the map was also previously accessible from the camera screen.
On the publicity front, Snapchat knew the update will be received with hesitation by longtime users.
"Updates as big as this one can take a little getting used to, but we hope the community will enjoy it once they settle in," a Snap spokesperson said during the update's rollout in Australia, Canada and the UK.
It looks like despite the teens' discourse, Snap is standing its ground with the new redesign.
The update is set to be available to all users within the next quarter.
As for that petition, its creator says he was even surprised by the reaction.
"Honestly I never expected it to get this far," Nic Rumsey told Inverse this week. "It was created as a kind of gag to make a few friends shut up, but it's just gone international and exploded since then. The 1 million mark is a huge milestone for us, as it represents an actual percentage of the total users of Snapchat."