Snapchat Update Gets Slammed as "Horrendous" in App Store Reviews
"Change it back to the old version please."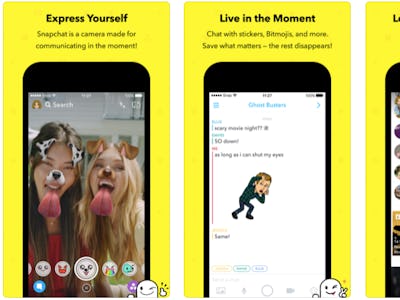 Apple App Store
Snapchat's new update may have sent its stock soaring, but the redesign has power users upset.
According to the social app's reviews on both the iOS App Store and the Google Play store, reviewers of the new update "HATE" it.
The review, written by user Laiba Jamshaid, goes on to call it "very annoying."
"I do not like everything cluttered together," Jamshaid writes. "The discover area is of no use anymore. You can't even see everyone's story anymore properly, they are all scattered." The rest of the review pleads with Snap Inc. to bring back the "old version" of their app.
Over at the App Store in a review titled "What were you thinking?" user ameera9 writes: "This new update is horrendous. 90% of my time on Snapchat is spent on the Discover section catching up on all the articles."
The Snapchat user goes on to explain that she expects to only "see articles there. Now you have completely changed it up by (a) mixing articles with my contacts' stories (b) not moving the article to the bottom of the page when I'm done with it, as it was previously and (c) I see a bunch of new celebs and public figures' stories are now in my discover section under the guise of 'popular story'."
Needless to say, Snapchat's strategy to revamp the layout of the app isn't so popular with avid users.
The update, which has reportedly rolled out to select users in the UK, Australia, and Canada, has a new "Friends" tab that displays a non-chronological feed, along with a new Discover section.
The app now features users' own Story under their profile page, whereas it used to appear on top of friends' Stories. Other changes include Group Chats getting their own page and optional Story. Meanwhile, the famous Snap Map has been moved, too, and now appears on the Discover page and in Search. Before the update, the map was also previously accessible from the camera screen.
Snap isn't worried, though, and confirms the update will roll out to all users in the coming months.
"Updates as big as this one can take a little getting used to, but we hope the community will enjoy it once they settle in," a Snap spokesperson said during the update's rollout.
One thing is for sure, parent company Snap Inc.'s shareholders will probably enjoy the ad-heavy redesign.
You Might Also Like: No, You Can't Undo the New Snapchat Update, But Here's a Workaround