How to Use Snapchat's Context Cards
The feature is a whole new level of interactivity.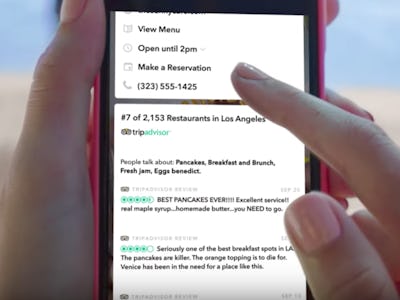 Snap Inc.
Want to know more about that cool-looking place that your friend just sent you a Snapchat from? You can now find out everything about it without switching apps.
Snap Inc. announced Monday that it's bringing Context Cards to Snapchat, furthering the app's dominance in trying to do just about everything. The newest feature replicates Google Maps' ability to access a destination's contact information, hours, and reviews.
The new feature will also link Snapchat to other often used apps, including ridesharing services like Uber, reservation booking through OpenTable, and review platforms like TripAdvisor. Snap Inc. says it plans to add more partners in the future.
The feature seems relatively easy to use. When you view a Snapchat with a location tagged — whether it was sent to you, from your Snap Map, or on a friend's story — just swipe up, and all this additional information on the tagged place should appear.
This is just the latest feature of many that Snapchat has rolled out in the past year. The Maurauder's Map-esque geolocation Snap Map and custom geofilters were added in June, along with a rollout of features the month before.
If you liked this article, check out this video about Snapchat spectacles.