No, You Can't Undo the New Snapchat Update, But Here's a Workaround
Users aren't happy with it.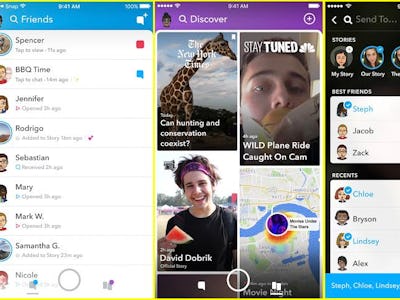 Snap Inc.
Snapchat's new overhaul is being called a "literal nightmare" by users, but if you're adamantly opposed to the change, there's a fix for users who haven't updated.
If you have updated, there's a petition you can sign that is asking Snap to "undo" its recent app redesign.
The update, which has reportedly rolled out to some users in the UK, Australia, and Canada, has a new "Friends" tab that displays a non-chronological feed, along with a new Discover section.
Nineteen-year-old avid Snap user Kaytlyn Whatley of Birmingham, England, received the update, and she says she's "not a fan at all."
"I don't like how the news is mixed in with my friends' Stories," she tells Inverse. "It's annoying and tedious trying to flick through to find my friends' Stories."
The redesign now features users' own Story under their profile page, whereas it used to appear on top of friends' Stories.
Other changes include Group Chats getting their own page and optional Story. Meanwhile, the famous Snap Map has been moved, too, and now appears on the Discover page and in Search. Before the update, the map was also previously accessible from the camera screen.
Whatley likened the new Friends tab to Instagram's algorithmic feed. Though she admits Snap's algorithm doesn't seem to know her as well, noting "the top three people I contact the most and then the two below that I never interact with."
Snap Inc. isn't sharing specifics around who has received the redesign or the roll-out schedule at this time. The company confirms that the new update is being made available globally in Q1.
Snap recognizes users' frustration with the new design, saying it will take time to adjust to it.
"Updates as big as this one can take a little getting used to, but we hope the community will enjoy it once they settle in," a Snap spokesperson tells Inverse.
While users can't forego being chosen to participate in the update, there is a slight workaround for those who haven't switched over yet. While avoiding app updates isn't recommended, as it does slow down your apps' functions, it's the only option die-hard Snap users have for keeping their current design.
As some reports have pointed out, users can avoid the redesign by simply not "updating" their Snapchat app in the App Store.
Snapchatters can do this by turning off automatic app updates in their phones' settings. To do this on an iPhone, switch off the "Updates" tab under iTunes & App Store's "Automatic Downloads" section.
If you have an Android, you can simply open the Play Store menu and disable auto updates in your settings.
As for "getting used to" the new app, only time will tell if Snap's power users will go along with it.
"I wouldn't say it's that much of a big deal, but it's making me prefer Instagram stories," Whatley says.