What's the New, Improved Snapchat Going to Look Like?
The social platform admitted it needs older users.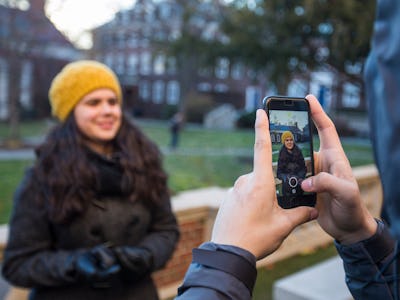 Getty Images / Scott Eisen
Snapchat says it needs to pare down its app to get older people — anyone 34 and older, basically — to use it.
On Snap's 2017 third quarter earnings call, founder and CEO Evan Spiegel announced the photo-exchanging platform will go through a major redesign to help "simplify" it. The announcement was accompanied with figures of Snap Inc. recording losses and stock dips during a disappointing quarter.
"One thing we have heard over the years is that Snapchat is difficult to understand or hard to use, and our team has been working on responding to this feedback," Spiegel said.
He confirms that a redesigned, easier-to-use Snapchat — along with a major Android push — is coming soon. "We have to change our products and business," he said, admitting that while growth has been healthy, it needs to be faster moving forward.
"We're still not sure how the redesign play out," Spiegel said. The company didn't reveal many details on how exactly it will make the app easier to use for its non-teen demographics.
What we do know is that Snap Inc. is scaling back products aimed at its loyal young users — like its failed Spectacles — and focusing on attracting untapped markets, like the 34-and-older crowd, who they've neglected in the past.
The announcement also comes at a time when Instagram's similar Stories feature is enjoying extreme popularity among similar demographics.
One standout feature change from the earnings is growing Snap Lenses.
Snap, which now considers itself a camera company, is calling its lens "the world's most used camera in the world." This is because, according to Snap, their lens is used more than all phone cameras combined. When you take all those flower crown selfies and geolocation filters into account, the claim makes sense.
It seems Snap wants to capitalize on the popularity of its beloved Lenses and filters, hence expanding its the "Lens Studio" feature. Spiegel said Lens design submission will be open to the community for creative users who want to participate in the feature.
The move to focus on intuitive software rollouts comes at no surprise, given Snap's recent woes in hardware.
Snap Spectacle's financial failure was one of many setbacks for Snap, Inc. since the company's initial public offering earlier this year, along with stagnant user growth. With a redesign coming, the social company is hoping to reduce losses while getting more people to migrate over to its app.