Dan Harmon Gives 'Rick and Morty' Season 4 Update on Twitter
Dan Harmon confirms after roasting fan who called him a lazy alcoholic.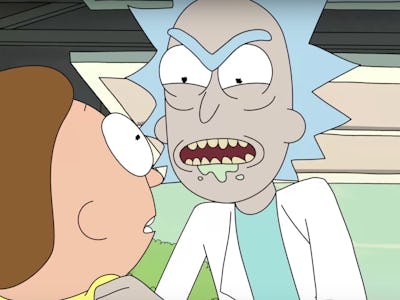 Adult Swim
Dan Harmon doesn't pull punches on his Twitter timeline, and in one of his latest tweets, he revealed why there haven't been any updates on Season 4 of Rick and Morty.
Harmon replied to one Twitter user's demand for the show co-creator to finish writing the next season of the show. In his response, Harmon confirmed that Cartoon Network has not renewed the show.
"I hear ya, tough spot. On one hand, it can be challenging, especially with crippling lazy alcoholism, to write a show that hasn't been ordered by a network," Harmon said.
Harmon's tweet was in response to a Rick and Morty fan calling him a "lazy alcoholic" for delaying the next season. In the same way Harmon doesn't shy away from criticism on Twitter, he also doesn't deny his problem with alcohol. In 2014 interview with Vice about his Harmontown documentary, he mentioned that his conversations about his addiction are kept short and direct.
Ryan Ridley, a former writer for the show, was the first to hint that Rick and Morty Season 4 was in limbo back in December.
Rick and Morty Season 3 premiered last July, although technically the first episode of the season was shown on April Fools' Day earlier in the year.
Fans of the show made headlines when McDonald's announced the limited return of Szechuan Sauce — a McNuggets dipping sauce released in 1998 to promote Disney's Mulan — after it was mentioned in the first episode of the season, "The Rickshank Rickdemption." Rick and Morty devotees rushed their local McDonald's for the limited sauce leading to a sauce aftermarket.
Fans haven't been completely devoid of their favorite multiverse duo. Run the Jewels released a new music video for the song "Oh Mama" off the Run the Jewels 3 album, which featured a badass Rick and Morty.
The video was part of the announcement of the Adult Swim Festival where Run the Jewels will headline. The festival will happen on October 6 and 7 in Downtown Los Angeles.