Former 'Rick and Morty' Writer Says Nobody Is Working on Season 4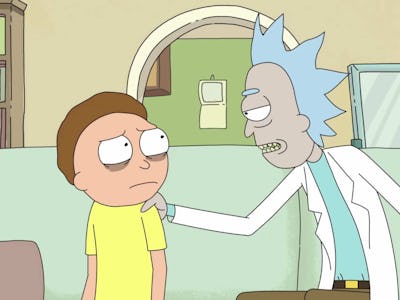 Adult Swim
Rick and Morty fans aren't always the most patient bunch (see: McDonald's Szechuan Sauce), but they've had to get used to long waits between seasons, and it's looking like the Season 4 premiere is still far away. A former writer on the show says that, as far as he knows, nobody is currently working on Season 4.
"As far as I know no one's working on the show and I'm certainly not, so I don't know what's going on," writer Ryan Ridley explained during a December appearance on The Detroit Cast. Ridley isn't working on the fourth season himself, so take his words with a grain of salt, but he did pen some of the show's better episodes, including "Lawnmower Dog" and Season 3 standout "The Ricklantis Mixup." At the very least, he knows something about the process of getting an episode of Rick and Morty actually made.
"I haven't heard anything," he continued. "And yeah, they really take their time. I never understood why everybody—all parties, Dan [Harmon], Justin [Roiland], and Adult Swim—didn't get their shit together and make the show fast. I just don't get it. It doesn't make any sense to me. I'm sure they all have their reasons."
Ridley was quick to note that this shouldn't be taken as an indication that there won't be a Season 4, just that if this is the pace the creators are going at, Mr. Poopybutthole was right in saying that the show wouldn't be back for "like, a really long time."
"I'm just shocked that it's taking—we got done writing season 3 in November of last year and here we are 11 months later," Ridley said. "And then I know how long the show takes to write, let alone animate, so it's just like, I'd be surprised if there was a fourth season on the air any sooner than 2019 — in late 2019."
"It's crazy," he continued, before quoting one of Morty's best rants. "Get your shit together, you guys. Get it all together and put it in a backpack."
Rick and Morty Season 4 will premiere in, uh, who the heck knows?