Jeez Guys, 'Rick and Morty' Season 3 Premieres This Weekend
Get ready for the squanchiest adventures yet.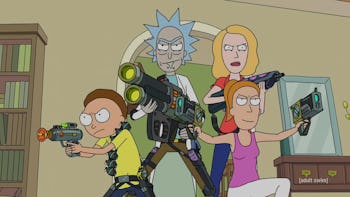 Adult Swim
After months of anticipation, preparation, and fans yelling online at co-creators Dan Harmon and Justin Roiland, Rick and Morty Season 3 is set to premiere this weekend.
Sure, technically the season premiere first aired as an April Fools' Day prank, but there's still a lot more to come — and on a regular schedule, this time. Alongside Pickle Rick and an entire storyline about eating poop, Season 3 will be packed full of fun new storylines and fan-favorite characters. And while Mr. Poopybutthole might return again to bring fans some joy this season, cyborg Birdperson will make an appearance and undoubtedly break Rick's heart.
But, perhaps most importantly, the internet will finally be able to leave Harmon and Roiland alone for the first time since the last episode of Rick and Morty Season 2 premiered almost two years ago.
Because, like, wow, you people have really been giving them a lot of shit. Y'all have driven them to drink as much as Rick. It's almost like Rick and Morty has a huge, passionate cult following or something.
We certainly haven't been obsessively following every detail of Season 3 down the rabbit hole. Nope, not at all.
Here's everything we know about Rick and Morty Season 3.
Season 3 of Rick and Morty continues on Sunday, July 30, at 11:30 p.m. Eastern.