'Rick and Morty' Season 3's Pickle Rick Compared to '127 Hours'
'Rick and Morty' writer Ryan Ridley has more information on the adventures of Pickle Rick.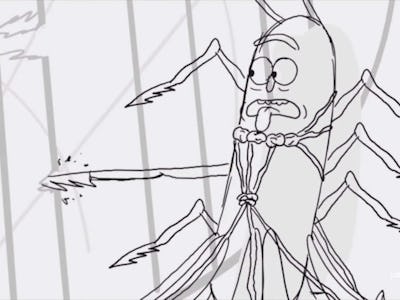 'Rick and Morty'
We don't know much about what's going to happen in the rest of Rick and Morty Season 3, but we do know that Rick will transform himself into a pickle. That kernel of knowledge, though, just raises more confounding questions. However, now we have some new clues. Apparently, Pickle Rick's saga is like 127 Hours, a movie in which James Franco has to saw off his own arm with a dull multi-tool just to survive.
The comparison comes straight from a writer on Rick and Morty, Ryan Ridley, who was featured on June 7 as a guest on the Y Combinator podcast.
During a lengthy conversation about Ridley's career and experiences in the Rick and Morty writers' room, the writer cites an upcoming Season 3 episode in which Rick transforms into a pickle as an example of how the show handles adapting plots from other stories and tackling different tropes of storytelling.
"We do an episode in Season 3 that's — it's not a spoof of anything in particular," Ridley explains, "but we started referencing very specific movies." In this particular case, Rick finds himself in quite the pickle: he's alone and forced to survive an impossible situation … as a pickle.
Ridley draws direct comparisons to 127 Hours and Gravity, saying that the Pickle Rick episode will be "the Rick and Morty version of … the survivalist sub-genre."
Adult Swim already teased the "big reveal" of Pickle Rick shortly after the Season 3 premiere aired. But now, Ridley offers further details on what the Pickle Rick story will entail:
He turns himself into a pickle, and then he sort of gets trapped, and he ends up involved in a situation … One twist leads to another, and he's totally screwed. And he doesn't have the same resources that he usually has access to. He's a pickle, so he's not himself. He can't reach into his lab coat and pull out his portal gun or any of his other infinite inventions he has hidden in there, and yet he's in the most mundane of circumstances. He's just on Earth, a few hundred feet from the house … so he has to figure out how to get himself out of that with really basic ingenuity.
Rick will be trapped in the sewer only a few hundred feet from the Smith family house, where — if the San Diego Comic-Con 2016 exclusive video is any indication — he'll have to face an onslaught of rats.
The very rough Season 3 exclusive clip that debuted at San Diego Comic-Con 2016 shows a scene in which Rick uses limbs from fallen bugs and other garbage to defend himself from a bunch of rats. H even uses a device made of trash to infuse a rat brain into some tiny, pickled-out mecha armor.
When all is said and done, Pickle Rick will commit genocide against a rat colony, all while riffing on 127 Hours and Gravity, at some point in Season 3.
There's no confirmed title for the Pickle Rick episode or even a release date for Episode 2 of Season 3 — called "Rickmancing the Stone" — but previous promos have promised that the rest of Rick and Morty Season 3 will start airing in summer 2017.