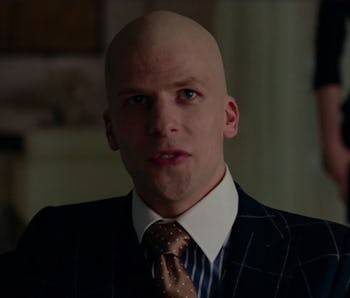 Entertainment
'Justice League' Villain Might Not Return for the Injustice League
Warner Bros. Pictures
Isn't it about time that the DC villains got a league of their own? That's what Jesse Eisenberg's Lex Luthor said in the post-credits scene of Justice League, hinting at the creation of an equal force to rival the super friends. Unfortunately, Eisenberg is unsure if he's even returning to the DC cinematic universe in the near future.
In an interview with Variety at SXSW in Austin, Eisenberg said he has "no idea" about his future in the DC superhero movie franchise. When asked if he'll reprise his Lex Luthor in "another Superman film," his response was, "I hope so. I mean, I have no idea is the truth."
Eisenberg's comments reveal a bigger picture to the DC film franchise: a very uncertain future. Aside from movies guaranteed to come, like Aquaman, Shazam, and the Wonder Woman sequel, the rest of the DC slate looks like things are up in the air. After the lukewarm box office of Justice League, which grossed a moderate $657 million worldwide, no sequel was confirmed. Other movies, such as Matt Reeves's The Batman, continue to fend off rumors regarding recasting Ben Affleck, who is allegedly unhappy with his role.
Eisenberg, on the other hand, added that he loved playing the character, which he debuted in 2016's Batman v Superman: Dawn of Justice. In Justice League, Eisenberg made a cameo appearance as a bald Lex Luthor, proposing an alliance with the anti-hero Deathstroke about forming "a league of their own."
"Probably in terms of movie acting, it's the most enjoyable character I've had the opportunity to play," Eisenberg said. "So I would love to do it again. But I don't know what their slate is. If you have any pull, please use it."
If Eisenberg doesn't return as Lex Luthor, then at least DC fans have Kristen Wiig as Cheetah in Wonder Woman 2.
There is no confirmed release for a Justice League 2. The next DC movie, Aquaman, will be released on December 21, 2018.