Why Justice League Made $281.5 Million This Weekend
It just couldn't live up to expectations.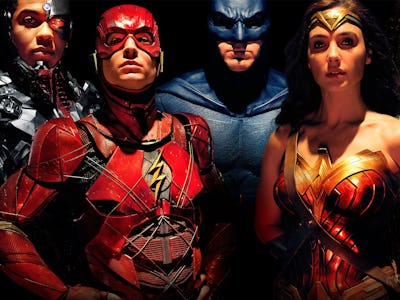 Getty Images / Tim P. Whitby
One of the most anticipated films of the year couldn't quite crack the expected massive box office prediction given for its opening weekend.
DC Comics' Justice League opened at $96 million this weekend — including its $13 million soft opening on Thursday a $38.8 million Friday. Considering its star-studded cast and north of $300 million budget, the opening is being considered disappointing. Worldwide, the movie pulled in $281.5 million at opening showings on 47,000 screens across the planet, Deadline reports.
When it comes to even films like Justice League, studios count on their opening's momentum to push them into a profitable margin, which tends to wane as time goes by.
It's safe to say Justice League is a superhero fan's ensemble installment come true. The followup to Batman vs. Superman and Wonder Woman looked like a blockbuster shoe-in in theory.
However, it seems not even Ben Affleck as Batman and Gal Gadot as Wonder Woman could get fans to theaters ahead of the Thanksgiving weekend. It doesn't help that while Gadot's Wonder Woman did well as a standalone film release, she couldn't quite help get those disappointed in its prequel: Batman v Superman: Dawn of Justice.
People aren't drawn to a sequel for a movie they didn't fall for the first time.
Logic typically suggests most people aren't drawn to a sequel of a movie franchise they don't fall in love with in the first place. Not to mention, critics' early reviews pegged Justice League's rotten tomato score at just 40 percent, urging moviegoers to save their money this round.
Of course $96 million is nothing to sneeze at, but when compared to Justice League's lofty box office projections, the number does look measly. Justice League was expected to bring in around $110 to $120 million domestically and $325 million worldwide.
Going into the holiday season, Justice League could still rally to beat its projected box office numbers. However, considering the family drama Wonder already managed to open right behind the comic flick, it's looking like other similar openings will do the same.