Ben Affleck Sounds Like He Wants to Quit Batman After 'Justice League '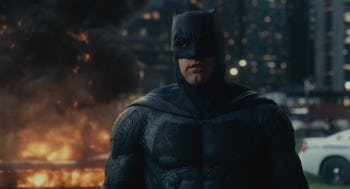 Warner Bros. Pictures
Is Batman's cowl going up for grabs? That may be the case in a very interesting quote from Ben Affleck in a new interview, where Affleck hints he's looking for a "segue" out of being the Dark Knight on the big screen.
In a new interview for Justice League with USA Today on Monday, Affleck said The Batman is a movie he is "contemplating." Based on the next immediate quote, it strongly suggests Affleck is trying to make The Batman, which will be directed by War for the Planet of the Apes director Matt Reeves his final performance as the character. "You don't do it forever, so I want to find a graceful and cool way to segue out of it," he added.
Since he took on the role of 2014, it's been an uphill battle for Affleck as he turned into Batman. Originally a subject of scorn from comic book fans, Affleck eventually earned their trust after pieces of his performance as Bruce Wayne/Batman in Batman v Superman: Dawn of Justice made their way online. But then the critical beatdown of Dawn of Justice happened, which also turned "Sad Ben Affleck" into a meme.
Then, during production of Justice League, it sounded as if there was trouble brewing in Gotham City. While Affleck was slated to make The Batman a total auteur project where he would write, direct, and star, Affleck relinquished control to Matt Reeves. Then, rumors swirled that Affleck wanted out a lot sooner than expected, which compelled Affleck to tell everyone at San Diego Comic-Con, the epicenter of modern geekdom, that he's not going anywhere. Now, it sounds like Affleck wants a more graceful exit, but an exit nonetheless.
Not for nothing, but the DC movie continuity already seems ready for Ben Affleck to make an exit if he so chooses. Unlike previous Batmen, Affleck's version of the character is significantly advanced in age, which was meant to resemble Frank Miller's Batman in the seminal graphic novel The Dark Knight Returns. After The Batman, which is set for release in 2019, a number of storylines from the comics could be adopted to segue Batman out of the role.
In the 2008 series Final Crisis from Grant Morrison, which was precluded by another Morrison series Batman R.I.P. (which is about as obvious as it gets), Batman sacrificed himself in a fateful battle against Darkseid, who was presumed to be the villain of Justice League until it was announced Steppenwolf, Darkseid's uncle, would be the big bad instead.
After Final Crisis, in 2009, DC kicked off the crossover event series Batman: Battle for the Cowl, which saw all the vigilantes and anti-heroes in Gotham compete for the right to become Batman. In the end, Dick Grayson, the first Robin and now Nightwing, earns the right, and became Batman for a brief period until Bruce Wayne returned a short year later.
Justice League will hit theaters on November 17.