Ben Affleck Will Not Be Directing the Batman Standalone Film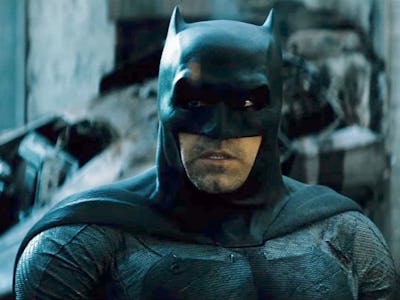 Warner Bros.
It's official: After lots of rumors, Ben Affleck has announced that he will not be directing the standalone Batman movie, though he will continue to play the caped crusader in Warner Bros.'s Justice League follow-up.
According to Variety, which broke the news that the decision was mutual, with both Affleck and Warner Bros. supposedly agreeing that this was the best course of action. Affleck, who co-wrote the script with Geoff Johns, is going to help the studio look for a replacement.
In a statement, Affleck said that he was stepping away from the director's chair because he didn't think he could fully devote himself to playing Bruce Wayne/Batman and overseeing the blockbuster film. (Affleck won the Academy Award for Best Picture for 2012's Argo, a film that he also starred in and directed.)
"There are certain characters who hold a special place in the hearts of millions," Affleck's statement explains.
"Performing this role demands focus, passion, and the very best performance I can give. It has become clear that I cannot do both jobs to the level they require. Together with the studio, I have decided to find a partner in a director who will collaborate with me on this massive film. I am still in this, and we are making it, but we are currently looking for a director. I remain extremely committed to this project and look forward to bringing this to life for fans around the world."
Affleck will next appear in Justice League, which opens in theaters on November 17. Work on The Batman is supposed to begin this summer.