Casey Affleck Clarifies Comments on Ben No Longer Playing Batman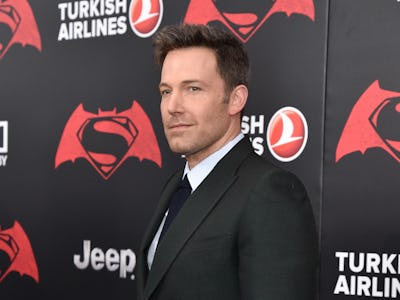 Getty Images / Bryan Bedder
Keeping up with what's going on with The Batman has become as exhausting as fighting crime in Gotham City. Earlier this week, Casey Affleck, brother of fellow actor and director Ben Affleck, made some candid statements that renewed the rumor that Ben would exit the role of Batman after Justice League. This was despite Ben himself laying rumors to rest at Comic-Con. Now, in the wake of Casey's comments, representatives are back on damage control duty.
In a statement sent to BuzzFeed, a representative for Casey Affleck said that the A Ghost Story star was "having fun with the folks at the Red Sox game," where Affleck threw the first pitch in support of the Jimmy Fund. He was "not speaking from a place of firsthand knowledge."
Similarly, a rep for Ben Affleck also told BuzzFeed that Ben will "continue to be Batman as long as the studio will have him." At Comic-Con, Ben Affleck called himself "the luckiest guy in the world" and said Batman "is the coolest part in any universe, DC or Marvel."
Finally, fans can put rumors regarding Ben Affleck's imminent exit to rest … until the next time this rumor rears its head.
For what it's worth, among the movies Warner Bros. has in its scheduled slate is Flashpoint, a film that alludes comic series that changed DC's comic book universe forever and changed continuity. Even if Affleck will remain as Batman in Matt Reeves's film, there's still a chance Flashpoint could bring a whole host of changes. But, let's get through Justice League first.
Justice League will be released on November 17.