Casey Affleck Fuels Rumors Ben Won't Play Batman Again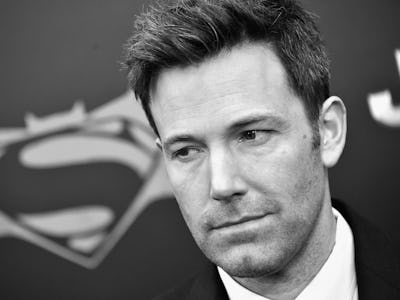 Getty Images / Mike Coppola
Criminals in Gotham City wonder who's really wearing Batman's cowl, but in the real world, fans of the DC Extended Universe are starting to wonder the same thing, as there's a new rumor that Ben Affleck won't be playing the Dark Knight again. And, this rumor comes from a pretty good place: Ben's brother, Casey Affleck.
In an appearance on WEEI Sports Radio Network on Tuesday, the younger Affleck said his brother wouldn't be wearing the cowl for the beleaguered 2019 solo Dark Knight flick, The Batman. "He's not going to do that movie, I don't think," Affleck told WEEI. "Or so I would say."
When the radio jockeys joked that Affleck's comments were "breaking news," Affleck responded: "Is that breaking news? I was just kind of making that up."
The continued stay of Ben Affleck in the new DC movie continuity has been a point of interest for almost a year now. In 2016, Affleck starred in Batman v Superman: Dawn of Justice, and while Affleck earned solid praise for his performance, the film was a critical punching bag, which helped inspire a meme starring Affleck himself.
With lengthy cameos in Suicide Squad and a prominent principal role in Justice League, it seemed unlikely Affleck would leave. And then, work began on The Batman. First, Affleck was slated to write, direct, and star, a monumental task, even for the acclaimed director of Gone Baby Gone and Argo. At some point, Affleck stepped down from directing, which allowed Matt Reeves to hop aboard. And then, Warner Bros. passed on Affleck's script, which he co-wrote with DC figurehead Geoff Johns.
Rumors began swirling that Affleck would leave his role for good around Comic-Con weekend, to which Affleck said he wasn't "going anywhere" during the massive Warner Bros. panel. Everything finally seemed fine until Tuesday, with Casey Affleck (A Ghost Story) saying otherwise. Or not. Who knows.
Affleck is still expected to appear in Justice League on November 17, unless those extensive reshoots are way, way more intense than we could have anticipated.