Apple Patent Reveals Dual Screen MacBook, and It Looks Incredible
It could also be a two-in-one tablet.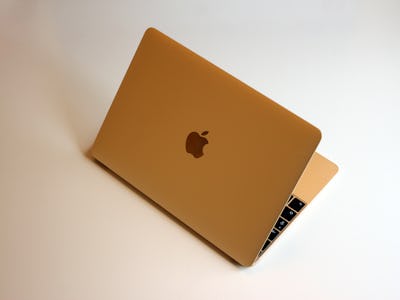 Flickr / pestoverde
On Tuesday, the U.S. Patent and Trademark Office released a set of recently approved Apple patents.
Among the 26 new patents is a design for a dual screen MacBook that would eliminate the keyboard and trackpad from their classic laptop design. Replacing the keyboard with a second display would allow Apple to radically reconfigure their MacBook series. Presumably, the new display would be touch-sensitive, meaning it could be used as a sketchpad and a touch keyboard, among other things.
According to the patent, there are two different versions of the dual screen system. In one, the displays would be attached by a hinge, making it very similar to a traditional laptop. Another option would allow the two screens to separate entirely, making it more of a two-in-one device.
In addition to the dual screen function, the patent includes information about a design that would allow users to wear sunglasses while using the computer. "Polarizer layers and other optical layers in the displays may be configured to provide a viewer with the ability to view images on the displays while wearing vertically polarized Sunglasses," the patent says.
It's not too surprising that Apple is potentially building a new MacBook. Just last week, Apple CEO Tim Cook revealed that the company is currently working on technology that won't be available for years, in part because of the long lead time to gather the necessary silicon.
"You have to have a forcing function," Cook told Fast Company. "For us, on the product side, we have to come up with our silicon requirements three, four-plus years in advance. So we've got things that we're working on now that are way out in the 2020s."
Some speculated that Cook was referring to advances in augmented reality and self-driving cars — perhaps we will get to see the dual screen MacBook in the coming years as well.