Don't Replace Your Laptop in 2016, Better Devices Are Just Around the Corner
Laptop tablets will get better, just wait if you can.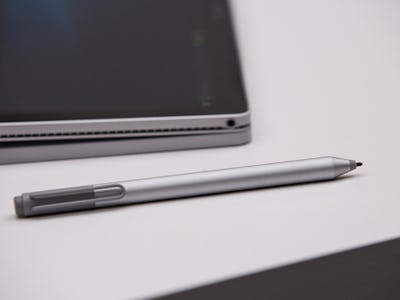 Getty Images / Andrew Burton
Hot-take alert: Laptops as we know them now won't exist in five years. They had a good run, but as consumers desire increased mobility, apps optimized across devices, and just plain more innovation, the classic all-metal foldable laptop will fade into the background.
That's precisely what makes buying a laptop in 2016 so frustrating. If you're going to drop a grand for a new thing, the expectation is that you'll get five years from it. The problem is, none of the laptops on the market today are prepared for the changes coming.
Despite swirling rumors of new touch ID-enabled Macbook Pros that would turn the top row of the physical keyboard into a touch panel of programmable buttons and finger print readers, Apple didn't announce any new laptops during Monday's WWDC keynote. That innovative device is still rumored for a back-to-school release later this summer, but even that is missing several components of what consumers will expect from laptops five years from now.
No company has crafted the perfect laptop-tablet device with compatible software, apps, and A.I., but whoever does, that's the next laptop you'll want to buy.
Here are the five innovations to watch for in the coming years.
Laptop/Tablet Combos
Microsoft, Google, and Apple all offer laptops that turn into tablets (or tablets that turn into laptops), but they're all compromised in some way — whether that's from the hardware or software side.
For example, you can do work on your iPhone, but when it comes down to cranking out a written document, you turn to your computer, and not just because it has a full keyboard. Are you reading this article right now on a computer? How many tabs are open? Now think about how hard it is to switch between tabs on your phone.
So why then, do iPad Pros run essentially the same OS that's on your phone? It's just an inferior experience for getting work done. Well organized tabs aren't the only thing that make laptops superior work devices, but there's probably nothing you use more on a laptop than a good browser with a lot of tabs, and Apple and Google two-in-one devices just don't offer that.
Microsoft's Windows 10 was built from the ground-up to bridge the gap between laptops and mobile devices, but it's held back by a lack of apps and imperfect hardware at a steep starting price of $1,400 for the Surface Book, or around $1,000 for the Surface Pro 4 if you want a keyboard (which you do because, it's not the best stand-alone tablet).
These combo devices are getting really good from the hardware side, but it's hard to recommend buying them before the software is there to support it. Whichever company can crack into that sweet spot will have a winner on its hands.
Faster Charging
One of the best parts of owning an Apple device is that you're never too far away from someone with a compatible charger, but there's a big cable shift about to happen.
The next device you buy will have a USB type-C port, which is a reversible cable (meaning there's no fumbling over which side is up and which is down) that is used to transfer data, charge your device faster, used as a headphone jack, plug in a mouse, and mirror a monitor — it's a truly universal cable for all your needs.
It's already the single port on the latest MacBook and it's on many 2015 and 2016 Android smartphones, but it's not on all devices yet.
So won't it be infuriating in 2020 when your 2016 laptop is the only device you own that doesn't use that cable? Everyone else in the office can conveniently share chargers, but you're left with a dead battery every time you forget it at home.
Artificial Intelligence
At WWDC Apple revealed Siri is coming to its line of laptops once the latest version of MacOS Sierra rolls out in September. That's good news because even users with older laptops can utilize the artificial intelligence features of the operating system.
Like Cortona on Windows 10 and Google Now on Android, Siri on Mac can do everything Siri on iPhone can, with some added bonus features. On the Mac, Siri can help manage files, play music, message friends, buy tickets, and search the web all in a side menu.
There are differences between these A.I. systems though. Google definitely has more data collected from its vast array of search results, Apple has been best at securing privacy, and Microsoft believes it can be a leader in chatbots despite the Tay bot hiccup.
Artificial Intelligence is only getting bigger and better and which ever company can best implement its power and align with your value system on privacy is the one that will win out.
Pencils, Pens, and Styluses
Steve Jobs famously hated styluses, going as far as to publicly say during the 2007 launch of the iPhone, "who wants a stylus? — yuck."
Well Apple has an expensive $100 stylus now called Pencil, and actually it's kind of awesome, fun, and productive. So is the Surface Pen for that matter.
Kids are going to want to draw, artists will want to paint, and builders will want to construct, especially with advances in augmented reality coming down the pipeline shortly. Imagine drawing an item with a stylus and have it instantly appear in the latest augmented reality version of Minecraft happening on your living room floor. That's a future you want to be a part of, but there are very limited options.
What Is Google Doing?
There are strong signs that Google is planning to merge the operating system of its cheap Chromebooks called ChromeOS and its mobile operating system Android.
Last month, Google announced it's bringing the Android app ecosystem to Chromebooks, which could mean more apps that are made specifically to run on laptops. Currently, the mostly sub $500 devices are good for getting on the internet but not much else. There's not enough internal power for photo and video editing and the full version of Adobe Suites isn't able to run on the system.
If Google can make an operating system that follows a similar path as Windows 10, in which the design seamlessly moves from mobile to tablet to PC, the company will have a very competitive device. Android users out there are looking for a device that better syncs with Google's phones like Apple does across its various platforms.
If you have to buy a laptop this year, go with a Macbook. But if you can wait, do it.