Bad Jokes and Button-Downs Reign Supreme at Apple's WWDC Keynote Ceremony
Tech pageantry at its finest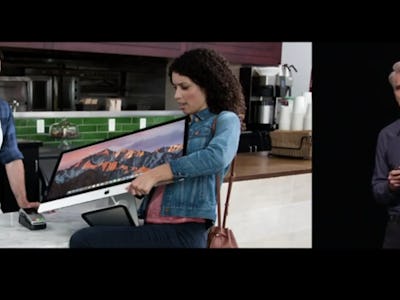 Apple
Every year, Apple's biggest fans flock to San Francisco for the Worldwide Developers Conference, a five-day festival of all things related to the reigning monarch of personal technology. WWDC's keynote speech, which kicks off the event on Monday morning, is always the biggest event, where Apple executives strut their stuff in the finest of Silicon Valley fashion and keep the audience on their toes with knee-slapping jokes about the Apple Watch's guided-breathing app. And on Monday morning, Apple's lineup for the 27th Annual WWDC-fest didn't disappoint, with button-ups in all different shades of (mostly blue) and a stand-out karaoke performance of Sugar Hill Gang.
This year's presentation, again led by Apple CEO Tim Cook, started off with a moment of silence for the victims of the homophobic terrorist attack in Orlando and after the somber preamble, a stark contrast to Cook's raucously-technicolor entrance last year, the big boss got down to business, striding confidently across the stage in a slate-blue button down tucked crisply into dark blue jeans. Steve Jobs's turtleneck-centric aesthetic has been out of fashion for some time now with dad-core business-casual the the successor.
Cook gave a rundown of the company, getting polite applause as he ran through his hits like "2 Million Apps in the App Store" and "Youngest Developer Here is Only Nine Years Old." But the first real smash hit belonged to Kevin Lynch, who took the stage right after Cook to introduce Watch OS 3, lightening the mood with a relaxed-fit lavender button up and spicing up the performance with some ruby-frame glasses.
"Are you guys ready?" he asked, introducing the lightning fast new operating system. "Ok don't blink!" The watch performed a function, and the crowd went wild. But Lynch didn't let up there — he immediately hit the audience with a big bomb — Scribble, which lets you write messages right on the watch's face.
Lynch turned the stage over to Stacy Lysik, who boasted a Kanye-inspired drape-core cardigan over a thin white turtleneck — a subtle throwback to the Jobs era that didn't go unappreciated. Lysik introduced some of the Watch's workout functions, although she "didn't come dressed for a workout," because her high-fashion plum-colored heels were built to slay, not to sweat.
After Lysik, the show struggled a bit in its middle ground — Lynch retook the stage and had a Jeb Bush "please clap" moment, where he told the audience "It's OK, you can clap," and they dutifully played their part
Throughout the two-hour-long presentation, Apple demonstrated new features for the iPhone, iPad, Apple Watch, and the newest version of their desktop operating system, Mac OS 10, which has been rebranded to macOS. There are comprehensive lists of all the new features, but we'll stick to the weirdest, dumbest, and funniest parts of the latest act in Silicon Valley's techno-stage-show.
After some preamble, Cook wandered off the stage, turning things over to a succession of Apple executives, including Kevin Lynch, Stacy Lysik, and Jay Blahnik. The crowd clapped, cheered, and occasionally laughed at the fumbling jokes and carefully-rehearsed product demonstrations. Of the presenters, Blahnik, was the most terrifying, when discussing the Apple watch's newest health and workout functions. The watch will now lead you through guided breathing exercises, and make them "easier to fit into your day," because Apple's grand plan is to slowly replace your brain with their products, until you do nothing but shuffle aimlessly through the world, prompted by the gentle haptic feedback on your risk to align your chakras and relax whenever the dissonant forces of reality rear their ugly heads.
On a lighter note, the overarching theme of the keynote was Apple opening its software to developers, which means applications like Siri may finally be able to get custom iterations and intelligently interact with third-party apps.
Craig Federighi, Apple's silver-fox senior VP of software engineering, brought some much needed charisma and understated sex appeal to the stage, but his presentation certainly spelled doom for the entire human race. Sure, he comically dismissed a friend request from Taylor Swift onstage while demonstrating new lock screen notifications, but no amount of desktop-mobile integration can save us from the fact that emojis are now three times larger. Not only that, but the new version of iMessage will find emojifiable words and allow you to replace them with a single touch.
"Children of tomorrow will have no understanding of the English language," Federighi said, and the crowd laughed, as if it were a joke
Anyway, iMessage for Android didn't happen either.
And in actual, productive, progressive, possibly good news, Bozoma Saint John, one of Apple's most senior women of color, came out and showcased Apple Music's sleek new design update.
Here's St. John pre-keynote (as Wired observes, she was a bad-ass long before Apple.)
Still, for all its ups and downs (mostly downs), the keynote speech is just the beginning. WWDC has a week full of events, mostly named after terrible coding puns, for the amorphous silicon-fueled tech spawn to feed off of. Welcome to the future.