5 Powerful Science Documentaries on Netflix in March 2018
This one time, at space camp...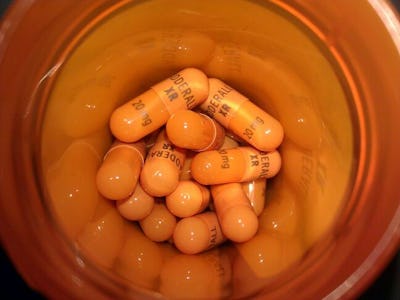 Wikimedia / Evidica
If you're hoping to fill the Pyeongchang-sized void in your life following the conclusion of the 2018 Winter Olympics on February 25, look no further than streaming platform Netflix. Whether you're interested in antibiotic resistant bacteria, algorithms, or drug use, Netflix has got you covered. Here are five science documentaries that will add intrigue and wonder to your idle days.
5. Take Your Pills
A Netflix Original slated for a March 16 release date, this documentary profiles the drugs of choice for ambitious Americans in the 21st century: Adderall and other related stimulants. These performance enhancing drugs are ubiquitous on college campuses and have seeped into the workforce, where people seeking a competitive advantage have adopted stimulants to improve work performance.
4. Terra
Like nature documentary stalwarts [Planet Earth II](https://www.inverse.com/article/28450-planet-earth-ii-binge-tv-documentary-drones-david-attenboroug) and The Blue Planet, Terra is a visually stunning film that spends the better part of an hour cataloging the beauty of the animal kingdom. But Terra isn't merely focused on spectacle; the movie is a philosophical meditation on the relationship between humans and nature, and the blurred edges between person and animal. Directors Yann Arthus-Bertrand and Michael Pilot raise concerns about dwindling biodiversity and rampant environmental degradation to ponder a pivotal question: What if man could not survive without wildlife?
3. The Secret Rules of Modern Living: Algorithms
This BBC documentary from 2015 examines the pervasive ways algorithms shape everyday experience. While they are largely unseen, algorithms make up the invisible architecture of the systems with which we interact on a daily basis, from traffic signals to courtrooms. The widespread adoption of algorithms can have pernicious effects, especially because the work of algorithms is obscured from view, hidden in strings of code with little human oversight.
2. Resistance
This unsettling film documents the rise of antibiotic-resistant bacteria in modern society. A call to improve public health, the documentary succeeds both as an educational resource and a work of advocacy journalism. The movie relies heavily on expert accounts, so you can be sure that the grim prognostications of an over-medicated future are legit.
1. The Mars Generation
This Netflix Original documentary released in 2017 is a paean to youthful exuberance. Trading heavily in nostalgia and unbridled joy, the film follows a group of teens at space camp as they navigate the hardships and foibles of simulated space travel. The movie is particularly well-suited for the space-obsessed, but anyone who wants to vicariously experience space camp will be delighted by the film.
Past Updates:
March, 2017
April, 2017
May, 2017
June, 2017
July, 2017