Scientific Study of Surfer Butts Reveal Drug-Resistant Bacteria in the Oceans
Here's a study we can all get behind.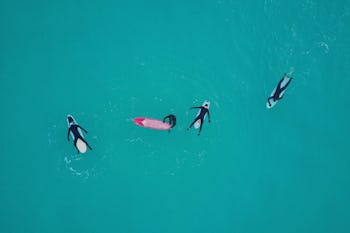 Unsplash / Johny Goerend
Surfers are known to brave bad weather, dangerously sized waves, and even sharks, for the perfect ride. But, it seems another danger of surfing has been lying in plain sight all along: ocean waters are full of drug-resistant bacteria — and surfers are most at risk.
In a study published this weekend in the journal Environmental International, a team of researchers from the University of Exeter found that regular surfers and bodyboarders are four times as likely as normal beach-goers to harbor bacteria with high likelihoods of antibiotic resistance. This is because surfers typically swallow ten times more seawater during a surf session than sea swimmers.
The cheekily named Beach Bums study, carried out with the help of UK charity Surfers Against Sewage compared rectal swabs from 300 participants and found that 9 percent of the surfers and bodyboarders (13 of 143) harbored drug-resistant E. coli in their systems, compared to just 3 percent of non-surfers (four of 130).
The World Health Organization has warned that widespread drug resistance may render antibiotics useless in the face of otherwise easily treatable bacterial infections, meaning that just as in the age before Penicillin, diseases like tuberculosis, pneumonia, blood poisoning, gonorrhea, food- and water-born illnesses as well as routine medical procedures that can lead to infection, including joint replacements and chemotherapy, could once again be fatal.
Indeed, a 2016 report commissioned by the British government estimated that, by 2050, infections stemming from antimicrobial resistance could kill one person every three seconds.
Solutions to an impending drug resistance epidemic have largely focused on prescriptions and use, but there is an increasing focus on the role of the environment in transmitting drug-resistant bacteria strains. The Beach Bums study adds important insight into how sewage, run-off, and pollution that makes its way into the oceans spread the drug-resistant bacteria.
"We are not seeking to discourage people from spending time in the sea," says Dr. Will Gaze of the University of Exeter Medical School, who supervised the research. "We now hope that our results will help policy-makers, beach managers, and water companies to make evidence-based decisions to improve water quality even further for the benefit of public health."
Though the study's purpose is not to alarm beachgoers — or surfers — Dr. Anne Leonard, who led the research, tells Inverse that the risk for anti-drug resistance may actually be lower in the United Kingdom, which "has invested a great deal of money in improving water quality at beaches, and 98 percent of English beaches are compliant with the European Bathing Water Directive. The risk of exposure to and colonization by antibiotic resistant bacteria in seawater might be greater in other countries which have fewer resources to spend on treating wastewater to improve water quality."
For surfers on this side of the pond, check out the free app available for Apple and iOS, Swim Guide, for updated water quality information on 7,000 beaches in Canada and the U.S.