The 7 Best Science Documentaries on Netflix in July, Ranked
Knowledge is power and Netflix is our professor.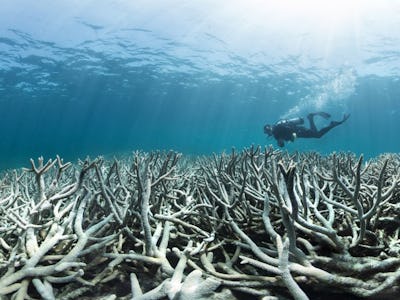 Exposure Labs
Beyond the swath of rom-coms, stand-up specials, and original programs, Netflix has a number of fact-packed, visually stunning science documentaries available to watch. Looking to learn more about space? Need to impress your coworkers at happy hour? Want to debate with the crazies from your hometown on Facebook (unclear why you'd want to do that)? Well, these Netflix documentaries are sure to give you a solid dose of trivia, and then some.
7. The Stanford Prison Experiment
This biographical film reenacts the events that took place during the highly controversial Stanford Prison Experiment in 1971. The psychological experiment reflects the way prison affects a person and what happens when you strip them of their identity and give them the illusion of not being able to escape. Starring Ezra Miller and Billy Crudup, this thriller will have you feeling trapped yourself. The film won "Outstanding Achievement in Casting for a Low Budget Feature" from the Casting Society of America and Best Feature Film at the Edinburgh International Film Festival and the Sundance Film Festival.
6. Chasing Ice
In this cinematic documentary, photographer James Balog offers up undeniable visual evidence of climate change. Featuring expert advice from Tad Pfeffer, a glaciologist from the Institute of Arctic and Alpine Research, he explains how the polar ice caps are melting at an accelerated rate and what that means for the fate of humanity. The doc scored prestigious awards, including an Excellence in Cinematography Award from the 2012 Sundance Film Festival.
5. Particle Fever
Physics is no easy subject matter, but this documentary puts it into a perspective we can all relate to. Learn about the Large Hadron Collider — one of the biggest scientific feats known to man — and discover how one tiny atom could solve the Big Bang and unlock the mysteries of the entire universe. It's been four years since Particle Fever debuted, and it is still driving scientific conversations. It has won over a dozen awards, including the audience choice at the 2013 Sheffield International Documentary Festival.
4. The Truth Is In The Stars
This documentary is hosted and produced by William Shatner, aka Star Trek's Captain Kirk. It is a "voyage to probe the most brilliant and creative minds on the planet" to understand the future of human exploration of the universe. Shatner has discussions with a whole bunch of familiar faces including Neil deGrasse Tyson, Stephen Hawking, and even Whoopi Goldberg. The documentary will be available for streaming on July 1.
3. In Search of Balance
This 2016 documentary takes a holistic stab at disease, looking at urban farming and western medicine. The host Dr. Daphne Miller speaks to medical experts and documents the personal accounts of several patients who were diagnosed with chronic illnesses and reversed their symptoms entirely by changing their diets and lifestyles. In Search of Balance has won several awards, including the "Best of Festival" award at the Los Angeles Sunset Film Festival.
2. More Than Honey
Human survival hangs by the wings of these fuzzy insects. With stunning visuals of the Swiss countryside and the almond farms of California, More Than Honey dives into the complex world of bee colonies and all they are responsible for in the ecosystem. Learn about the science behind their behaviors, the threats to their existence, and all the beauty they create. This documentary is world-renowned and has won numerous awards for best documentary at several film festivals across the globe.
1. Chasing Coral
Jeff Orlowski, director of Chasing Ice in 2012, is releasing his next documentary, which will focus on the devastating damage of Earth's most precious ecosystem. Netflix will debut it on July 14 and you won't want to miss it. Although the masses haven't seen it yet, we know this is going to be both cinematically breathtaking and intelligently narrated. The critics are already going nuts over it. The Economist calls it, "a triumph of both visual and narrative storytelling." And Sundance made it an "Official Selection of 2017" for their climate change themed programming.
Past Updates:
March, 2017
April, 2017
May, 2017
June, 2017