Snapchat Helps Teens Mobilize with Florida Gun Control Walkouts
Snap Map is heating up with rallies.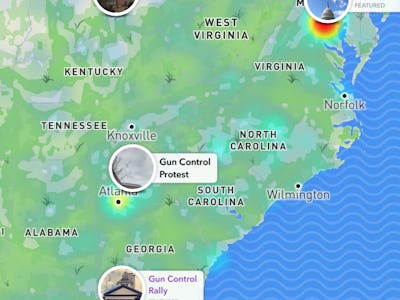 Snapchat/Gabriela Barkho
Young students in Florida are demonstrating gun control walkouts with the help of Snapchat's Snap Map.
In the wake of the Parkland High School mass shooting in Florida this week, young Snapchat users were spotted using the app's feature to find anti-gun protests.
Snap Map event names across the countries include "Gun Control Rally" in Tallahassee, Florida, "Gun Control Walkout" in south Florida and "D.C. Walkout" in the capital. Users can see Snap Stories uploaded from protests by clicking on these Map event.
With the majority of Snap's user base being under the age of 35, it's not surprising to see teens across the country utilizing the Maps feature. Not only can they share and publicize footage from the walkouts they're taking part in, but it's also helping other users find walkouts to attend in real time.
Snap Map was launched back in 2017 by Snapchat as a way for its users to keep up with their friends' whereabouts.
"On Snap Map, you can view Snaps submitted to Our Story from all across the world — including sporting events, celebrations, breaking news, and more," the company's site states. "You and your friends can also share your locations with one another, and see what's going on around you."
Snapchat declined to comment on the use of its feature.
This also comes at a time when Snapchat's recently launched redesign is being negatively received by both young users and Wall Street investors.
Snap Inc. CEO Evan Spiegel said the update is here to stay.
"People are saying, 'I used to feel like this celebrity was my friend and now they're not my friend anymore.' Exactly," Spiegel said during the Goldman Sachs Technology and Internet Conference this month. "They're not your friend."
The Snapchat founder also said that "some of the complaints we are seeing are reinforcing our philosophy."
It seems despite the pushback on the new design, Snapchat's loyal young users chose it to use it as their platform of choice during anti gun rallies.