How Snapchat's Redesign Caused a Downgrade of Snap Stock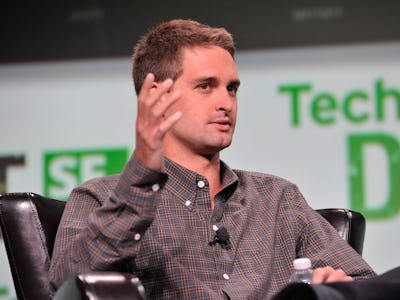 Flickr / TechCrunch
Due to the overwhelmingly negative reception the Snapchat has gotten this month, Citi analysts have downgraded parent company Snap Inc.'s stock rating.
Just when the publicly-traded company found a way to grow its potential user rate, its stock rating dropped from "Neutral" to "Sell" on Tuesday. What this basically means is that the company's shares aren't stable to invest in at the moment, due to the abundant one star reviews that Snapchat has gotten on the redesign.
In their announcement of the new rating, Citi analysts Mark May and Hao Yan wrote that users' unhappy reviews could affect Snap's future revenue.
"While the recent redesign of [Snap's] flagship app could produce positive long-term benefits, [there is a] significant jump in negative app reviews since the redesign was pushed out a few weeks, which could result in a decline in users and user engagement, and could negatively impact financial results."
Shares of Snap Inc. also dropped more than seven percent following the downgrade Tuesday.
The controversial update includes a new "Friends" tab that displays a non-chronological feed and a revamped Discover section. The update also features users' own Story under their profile page, whereas it used to appear on top of friends' Stories.
Other changes that have irked users include Group Chats getting a dedicated page and optional Story. Finally, the Snap Map has been moved, too, and now appears on the Discover page and in Search. Before the update, the map was also previously accessible from the camera screen.
Despite both investor and user concerns, Snapchat has actually benefited from the design overhaul, and the numbers show it.
According to app data-tracker Apptopia Snapchat currently has 187 million daily active users, which makes the 1.1 million signatures a small percentage.
"The reality is that Snapchat are growing the demographic they set out to grow and the number of users is actually growing," an Appetopia spokesperson said.
For example, in the U.S. market, Snapchat users aged 35-50 have grown from 13 percent of Snapchat's base to 17 percent within the past 30 days alone. And even with the unpopular update rolling out, Snapchat's Daily Active Users (DAU) have increased 7 percent (or one million users) during the same time period.
It appears that despite investors' worry that Snapchat may be losing its young, loyal user base, the app has the potential to make up for it with new, older users.