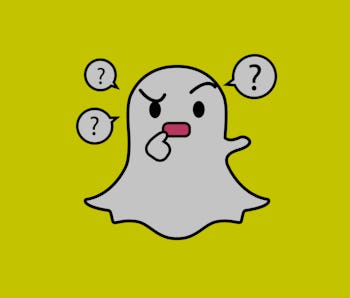 Culture
Snapchat Update: No, Retweets Will Not Bring Back Old Version
Snapchat
Despite Snapchat's stern decision to never undo its latest update, folks aren't done trying.
Some social media users, namely on Twitter, have begun to go to extra lengths to show Snap who's boss. These old school Snappers hope the Twitter antics will get Snapchat to reverse its new design decision.
Fishing for engagement — in the style of the popular "retweet to save a life!" meme — is nothing new, so it was only a matter of time before some took advantage of frustrated Snapchatters.
Others went the tongue-in-cheek route, joking their way to retweets. A Twitter "Moment" titled "Snapchat agrees to reverse update on February 20th" has received over 17,000 likes.
While Snapchat's most loyal users continue to resist the new changes, Snapchat is standing by them.
Even following a million-signature petition calling for Snap, Inc. to rethink its app's new strategy, the company's CEO Evan Spiegel said they won't undo it.
"People are saying, 'I used to feel like this celebrity was my friend and now they're not my friend anymore.' Exactly," Spiegel said last week during the Goldman Sachs Technology and Internet Conference. "They're not your friend."
"The tech is an important piece but I think the harder part you can't get around is the time it takes to learn," Spiegel said in comments. "You do need folks to use the product, to communicate with their friends to learn how to better provide that feed. The tech to some degree is a solved problem, the time to… to learn is a hard problem to solve. Even the complaints we're seeing reinforce the philosophy. Even the frustrations we're seeing really validate those changes. It'll take time for people to adjust, but for me using it for a couple months I feel way more attached to the service."
The Snapchat founder also said that "some of the complaints we are seeing are reinforcing our philosophy."
The rolled out update includes a new "Friends" tab that displays a non-chronological feed and a revamped Discover section. The update also features users' own Story under their profile page, whereas it used to appear on top of friends' Stories.
Other changes include Group Chats getting their own page and optional Story. Finally, the Snap Map has been moved, too, and now appears on the Discover page and in Search. Before the update, the map was also previously accessible from the camera screen.
There is no doubt the memes will continue to roll in as Snapchat's biggest fans push for one last effort to "undo" the update. However, they shouldn't hold their breath.
"Updates as big as this one can take a little getting used to, but we hope the community will enjoy it once they settle in," a Snapchat spokesperson said during the update's rollout.
The update is now available to most users worldwide.