Apple is Taking Action After iPhone X Phone Call Bug Hits Users
The company has issued a statement.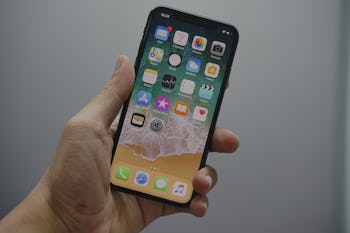 Unsplash / Bagus Hernawan
Apple has been hit by another issue around the iPhone X, after a number of users started complaining that the phone can take up to 10 seconds to light up the screen for an incoming phone call. It's the latest flaw in the company's otherwise groundbreaking device, which includes a number of new features like a face scanner and OLED display.
Confused users took to the company's support pages to complain. One post said that when a call comes through, "the display doesn't [light] up, it vibrates and rings bux
The company told the Financial Times in a Sunday story that it was "looking into these reports."
It's not the first bug to hit iPhone X users, who have suffered a number of issues since the phone launched in November 2017 at a starting price of $999. Just days after launch, reports filtered through that the AT&T network was having trouble with connecting calls, with the network asking customers to restart the phone to restore service. Another bug in the iOS 11.1 operating system replaced the letter "I" with an A followed by a bizarre character. Users also reported that the phone's new screen struggled with cold temperatures, requiring users to lock and unlock the device to overcome the software flaw.
In its ad campaigns, Apple has touted the studio lighting features as among the many reasons to upgrade.
Apple has been publicly confident that the iPhone X is selling well and its new design will chart the course of iPhones to come. In the company's first quarter earnings call last week, CEO Tim Cook said that the new device is "chock full of incredible innovation" and sets the stage for the next 10 years of launches. Cook also cited third-party analysis that showed the phone was the world's best-selling smartphone in the December quarter, it's been the company's top-selling phone every week since it launched, and revenue from the new 2017 lineup was the highest in company history. The issues may seem bad, but it appears sales are strong for Apple's most expensive smartphone.